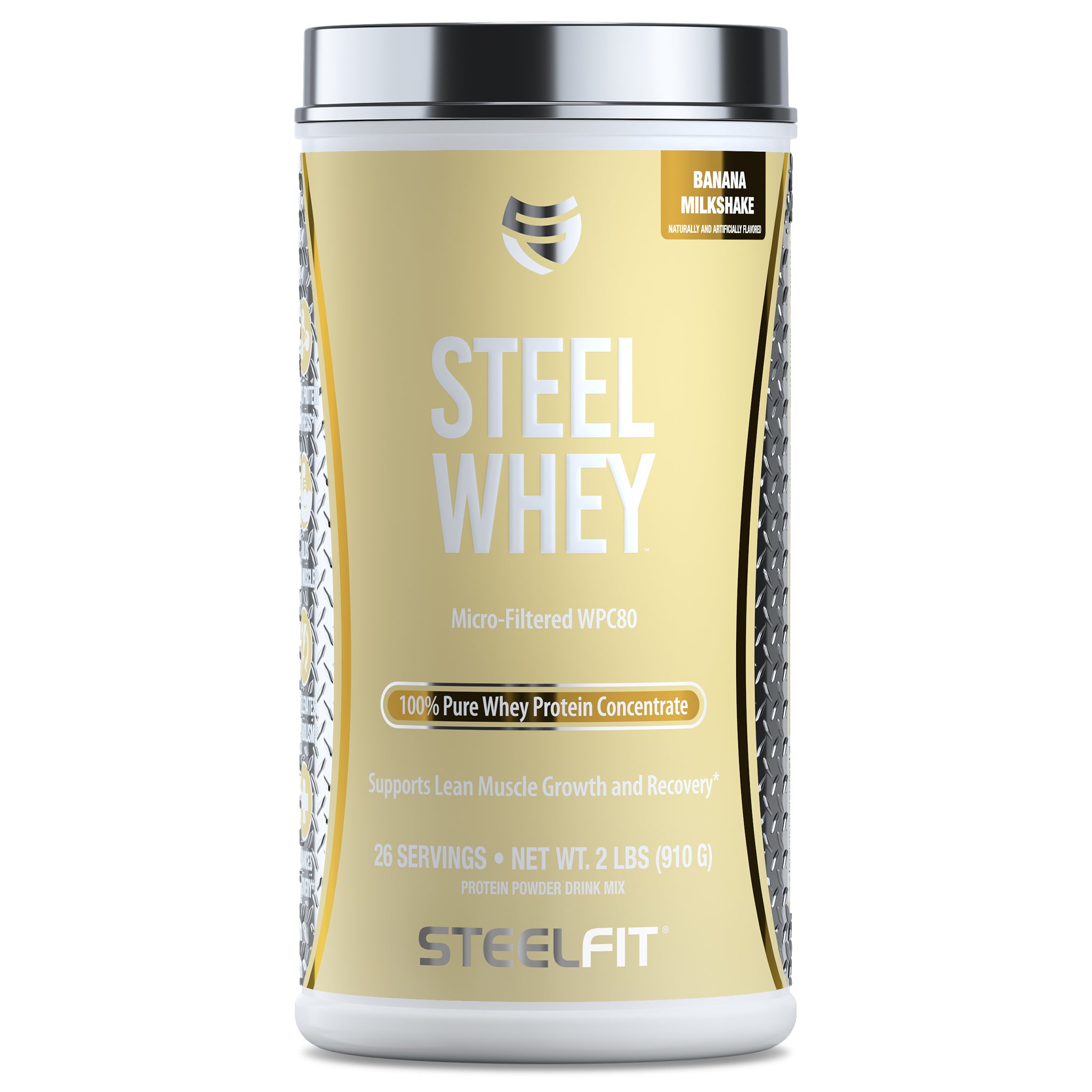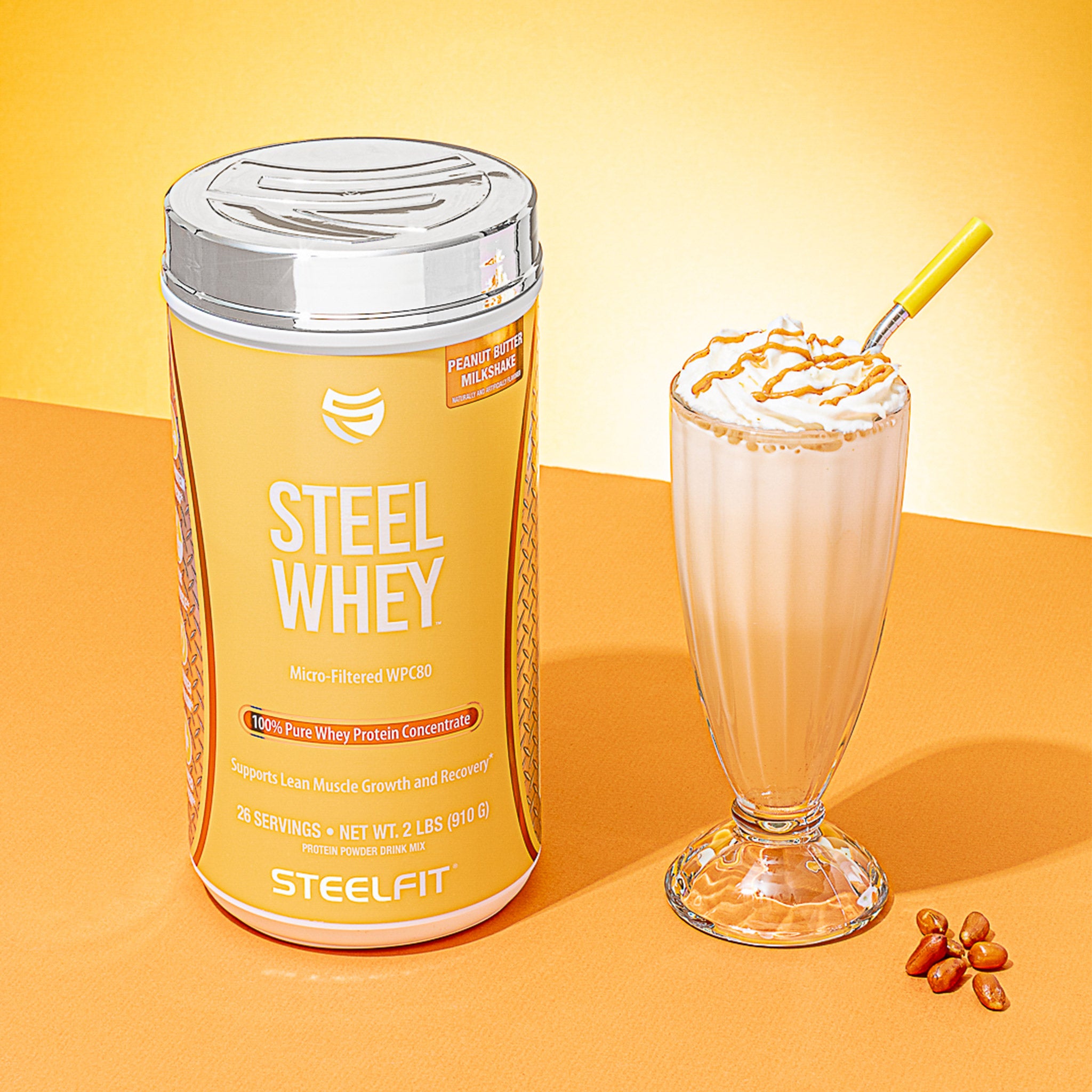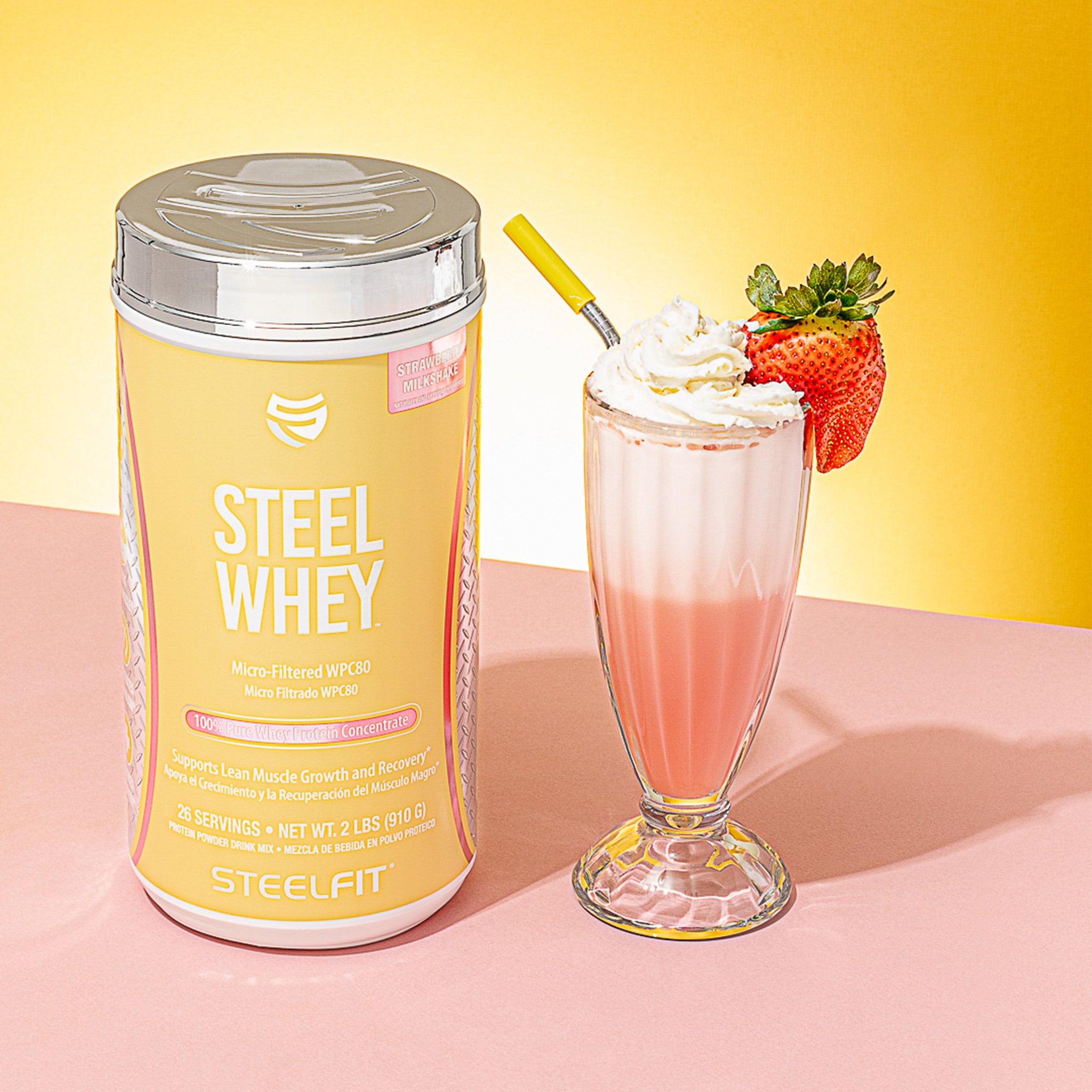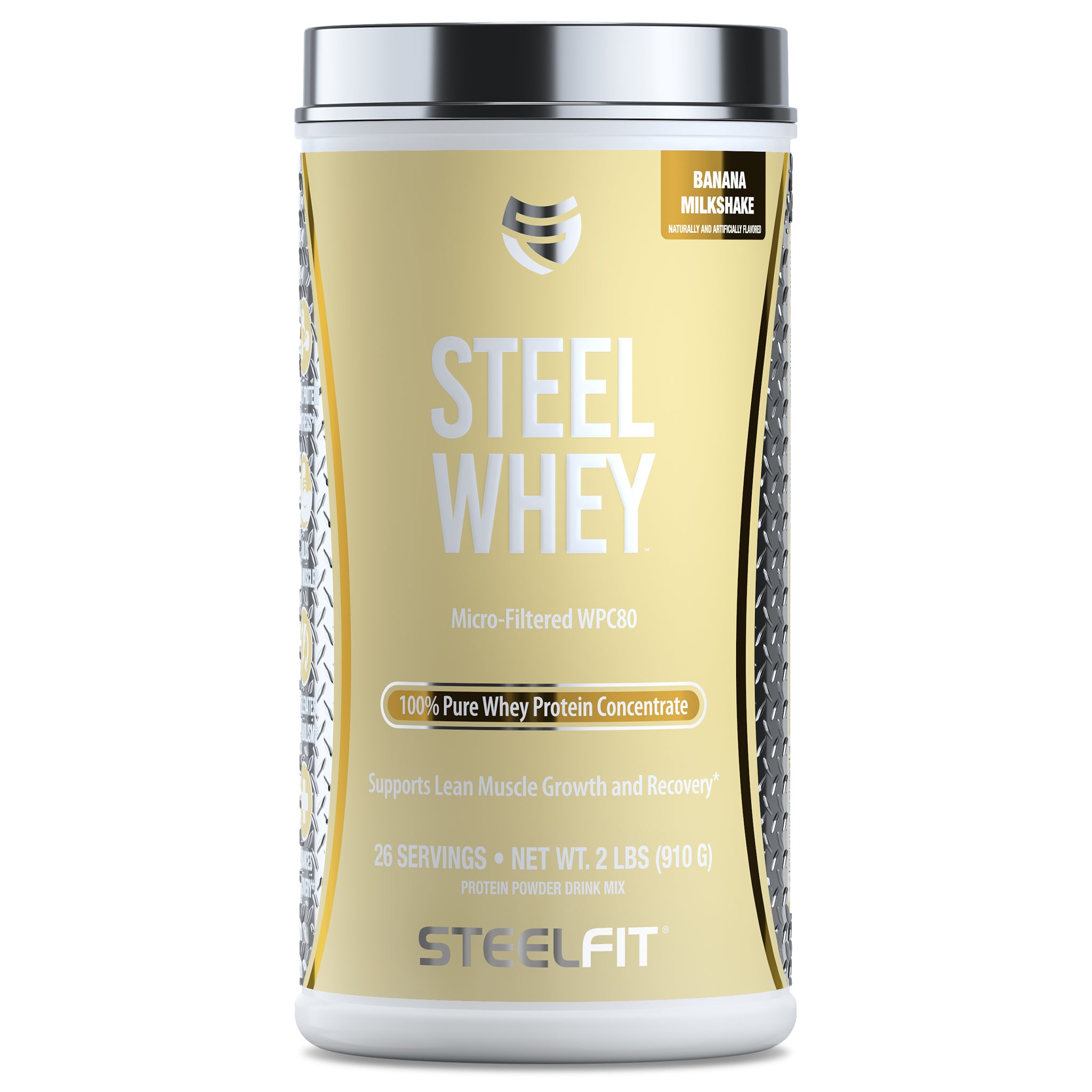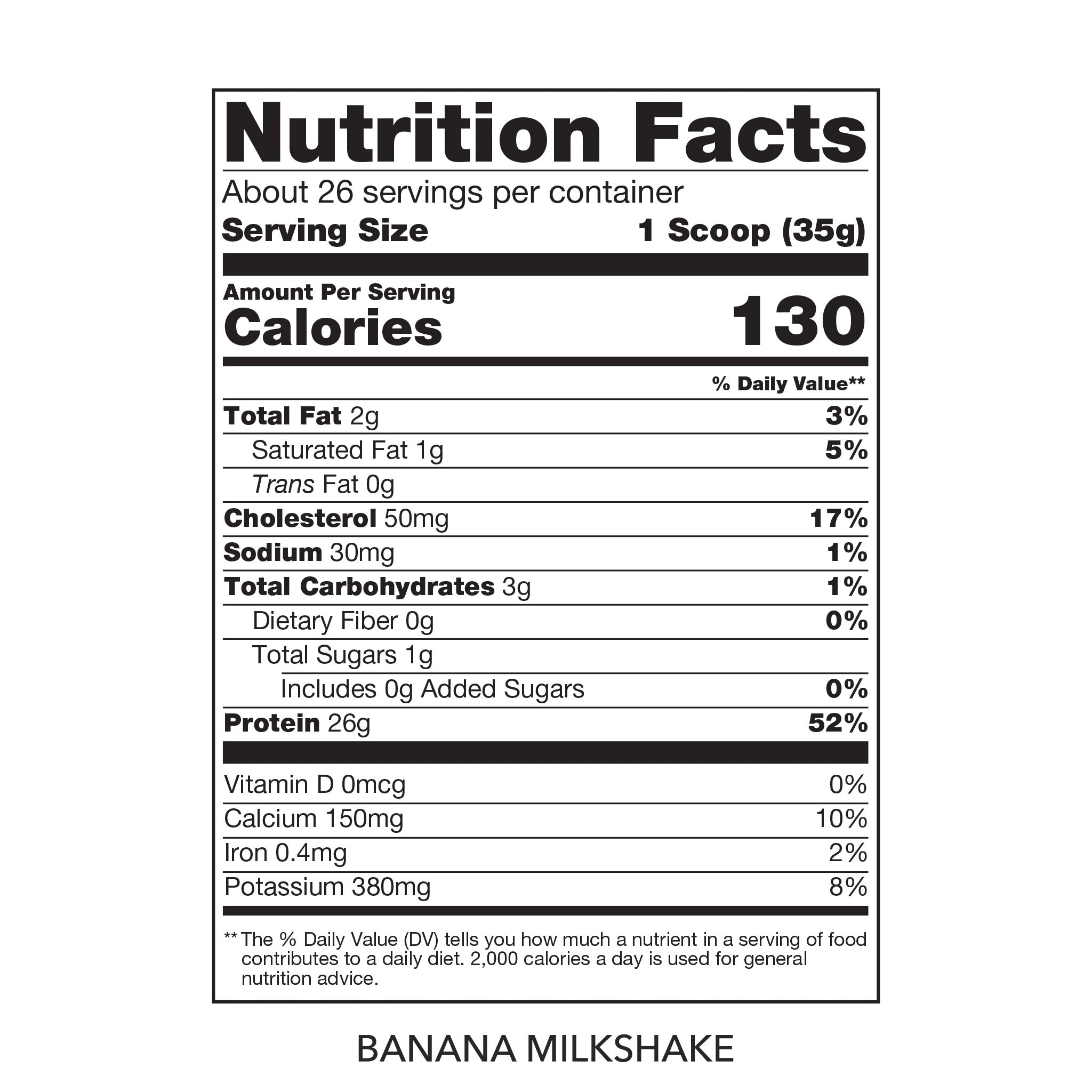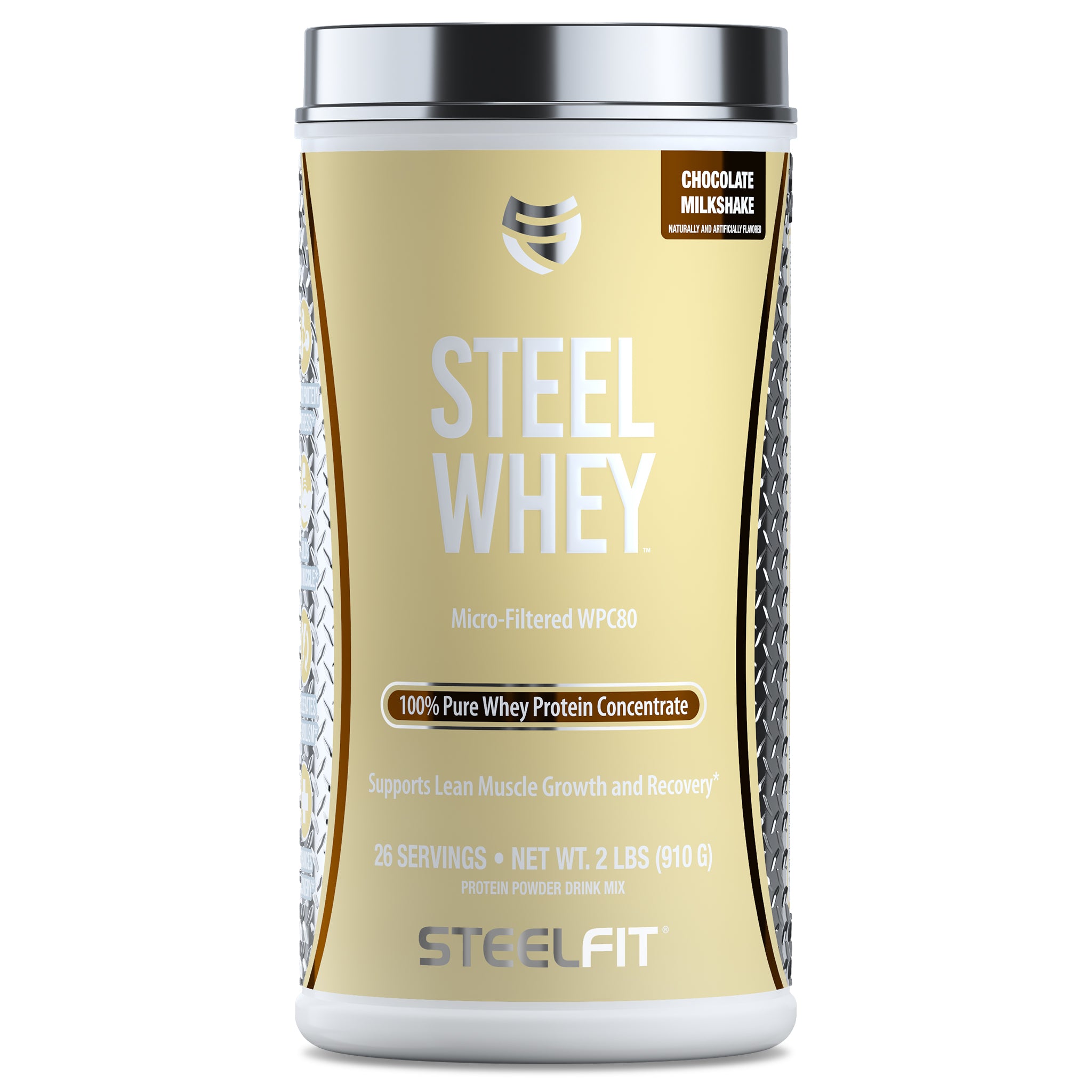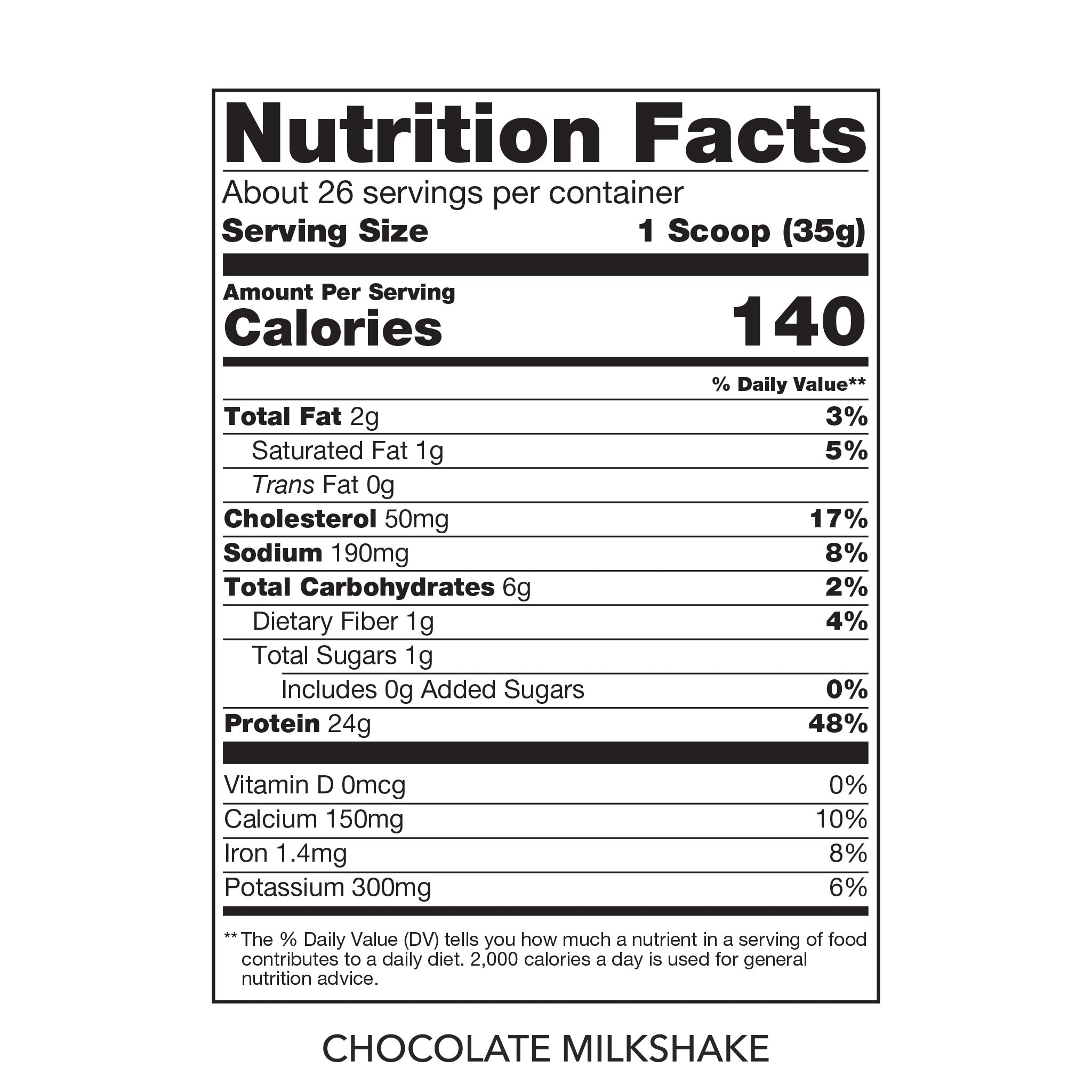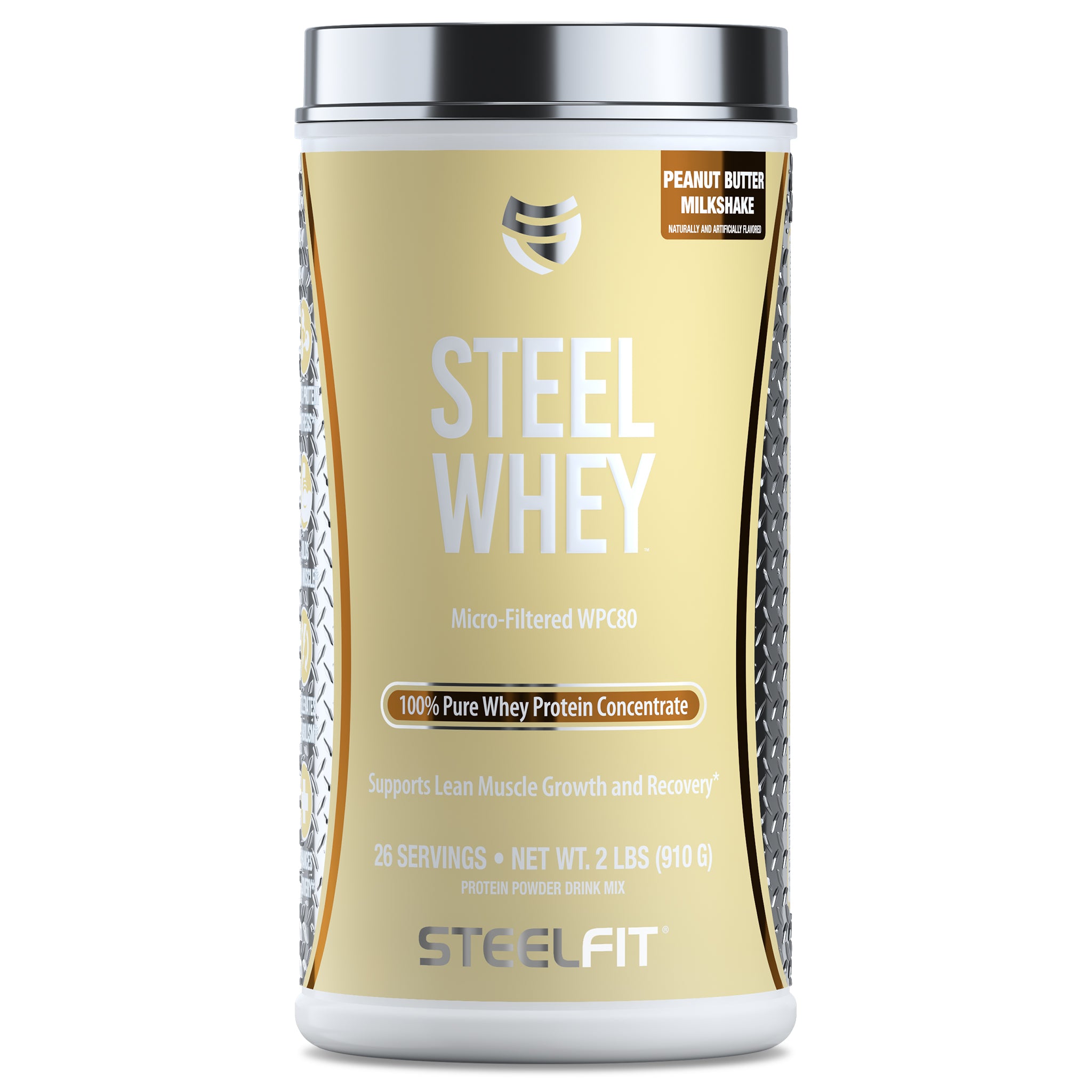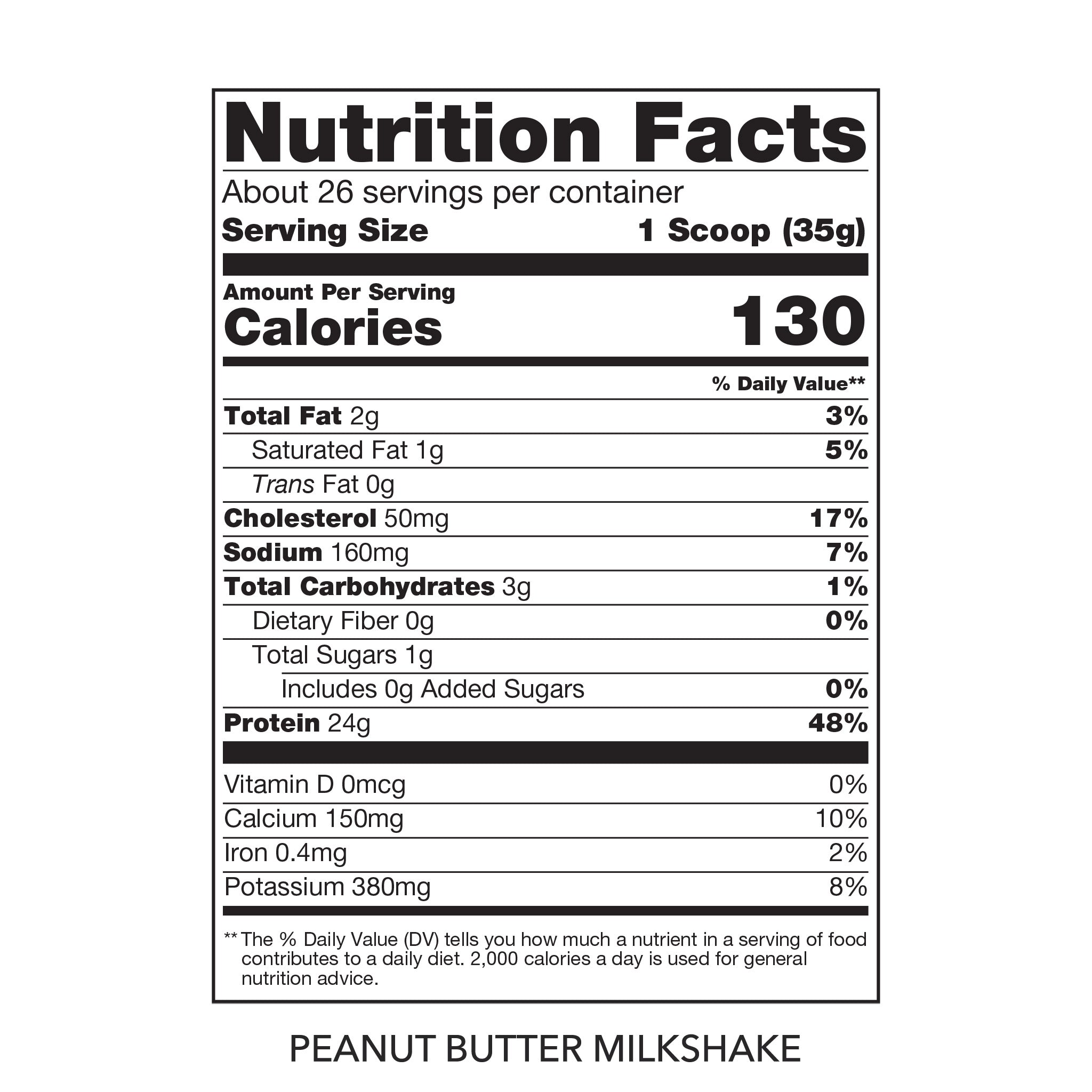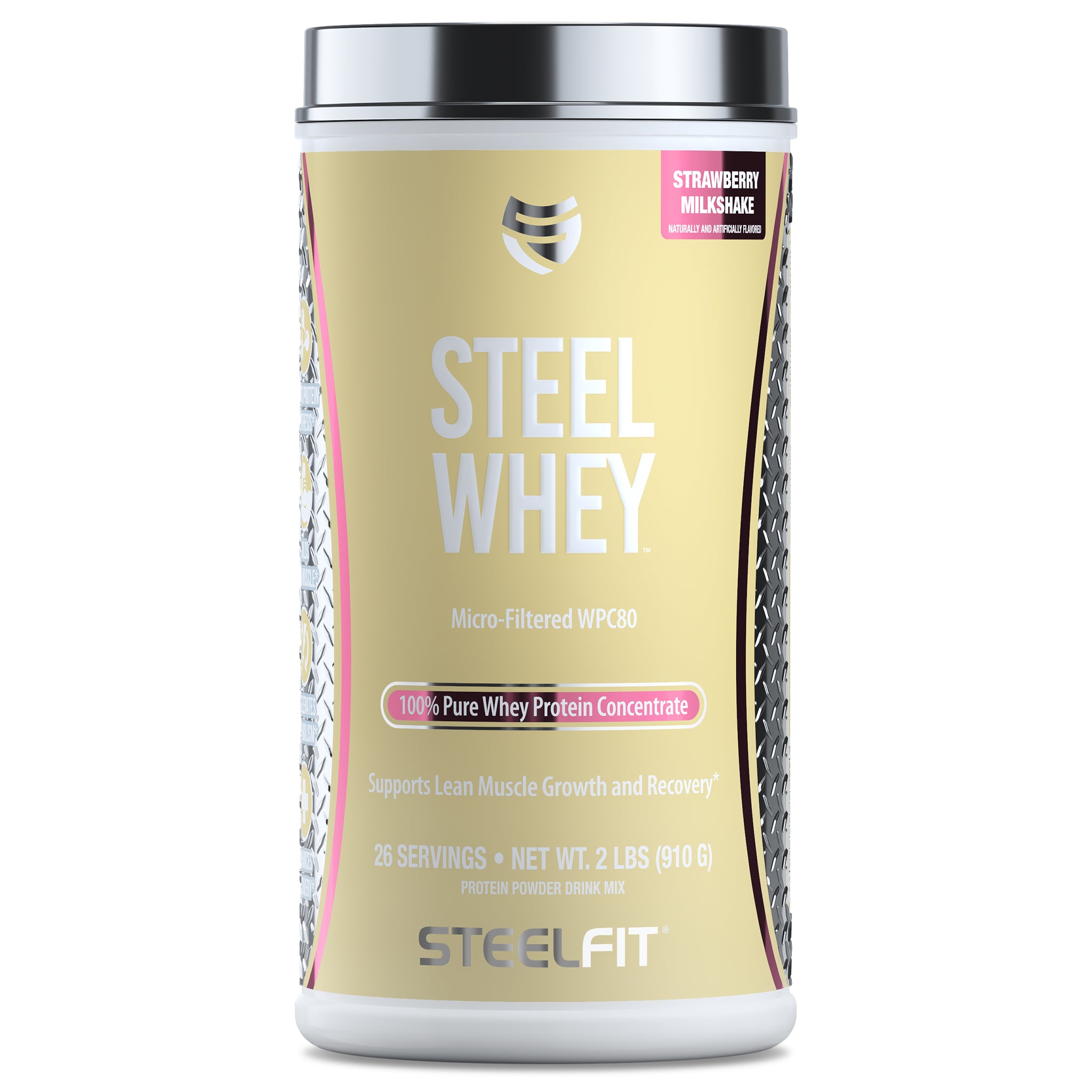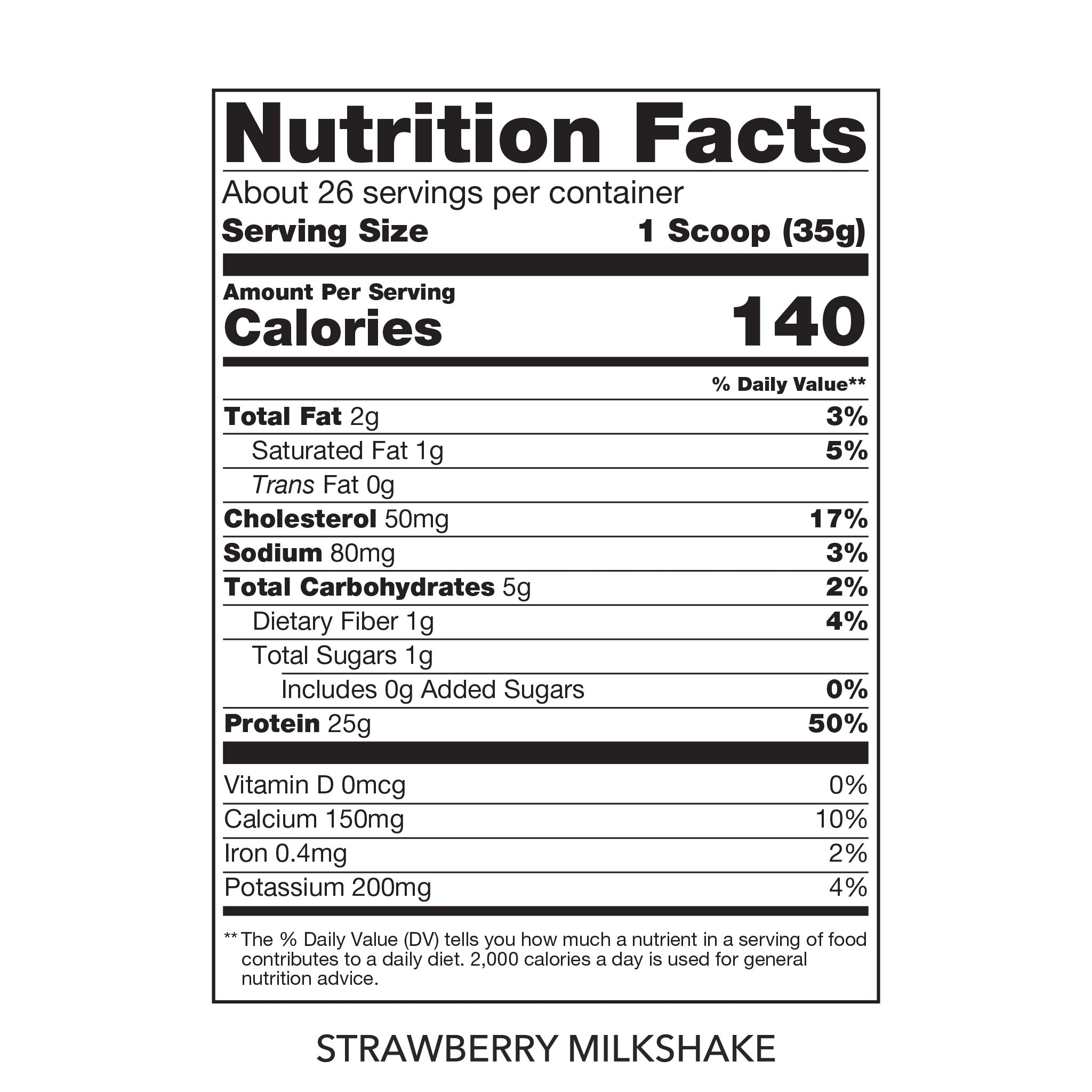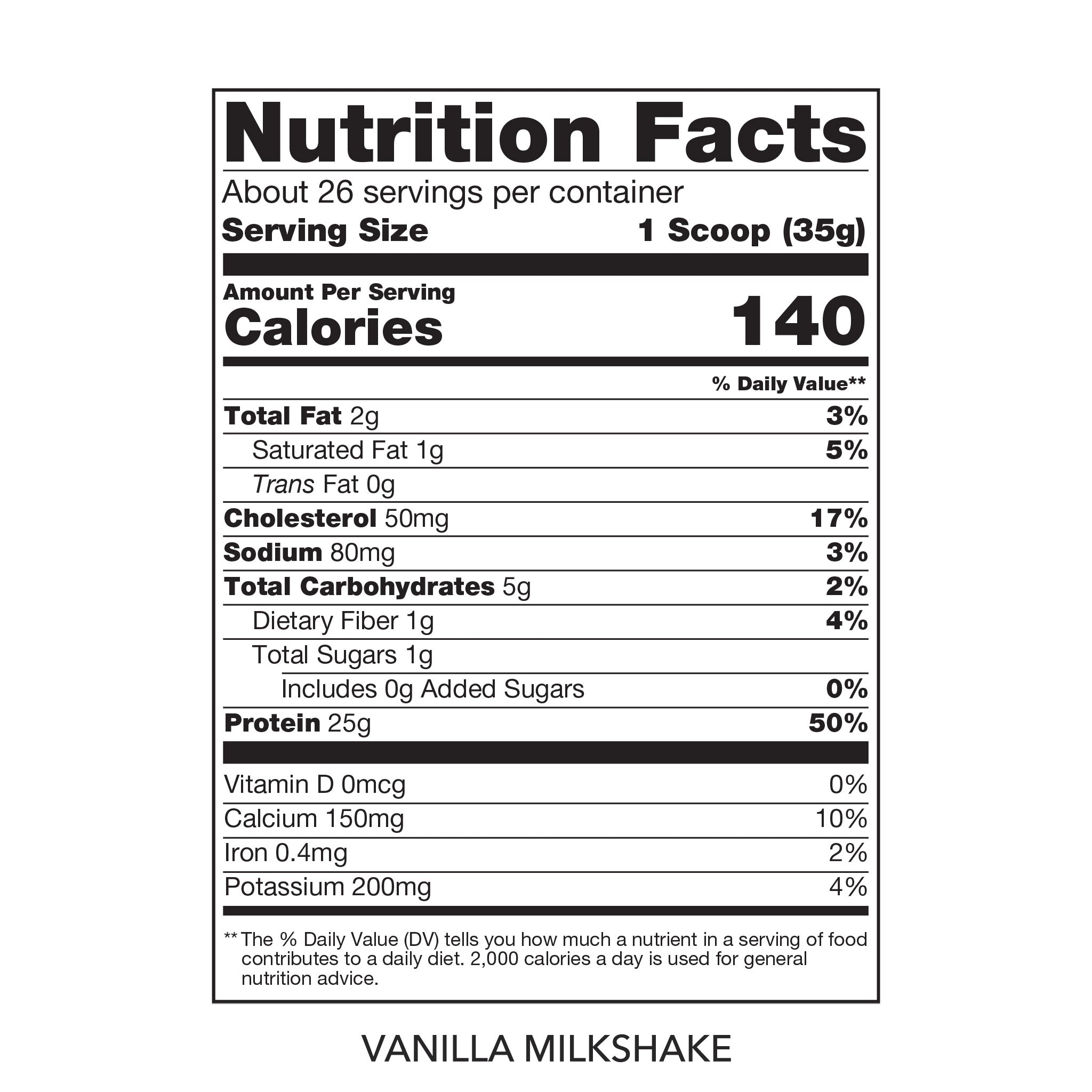 Steel Whey®
Steel Whey® 100% Pure Whey Protein Concentrate (WPC80) provides a convenient, delicious whey to add additional muscle-building protein into your daily diet.*
Steel Whey's high biological value and amino acid profile boosts protein synthesis, supports lean muscle growth, accelerates metabolism, and enhances recovery.*
Steel Whey® contains no proprietary blends, no fillers, and no protein spiking.*
If you're not satisfied with your product, simply contact us and we'll give you a full, 100% hassle-free refund.
Accelerates Metabolism*

Boosts Protein Synthesis*

Promotes Lean Muscle*

Supports Muscle Recovery*
What It Is: Steel Whey® 100% Pure Whey Protein Concentrate (WPC80) provides a convenient, delicious whey to add additional muscle-building protein into your daily diet.*

What It Does: Steel Whey's high biological value and amino acid profile boosts protein synthesis, supports lean muscle growth, accelerates metabolism, and enhances recovery.*
Whey Protein Concentrate (WPC 80): A whey protein concentrate powder that is manufactured from fresh whey using ultra-filtration and spray dried to provide an excellent source of whey protein with a protein content of 80%. WPC80 is fast digesting and boasts an exceptional amino acid profile, making it an excellent choice for achieving a wide range of goals, whether they be post-workout recovery, supporting lean muscle growth, or assisting weight loss.*

Amino Acids in Whey Protein: Whole food proteins are made from a combination of essential amino acids (EAA), conditional amino acids (CAA), and nonessential amino acids (NAA).

Essential Amino Acids are those that the body cannot synthesize on its own, and they must be obtained from the diet. Nonessential Amino Acids are those that the body can produce from other essential amino acids, carbohydrates, and fats. The human body can usually synthesize conditional Amino Acids; however, under certain conditions like illness or stress, the body might not be able or limited to synthesize them.*

What about BCAAs (branched-chain amino acids)?

The three BCAAs (leucine, isoleucine, and valine) are a special subcategory of the essential amino acids that serve as nitrogen carriers, which assist muscles in creating other amino acids required for anabolism (muscle growth).

With all of that squared away, let's learn a little more about the amino acids in your vegan protein powder:

Alanine (NAA): Not to be confused with the beta-alanine, alanine is a nonessential amino acid that plays a critical role in glucose production and blood sugar regulation. Alanine also supports optimal functioning of the immune system as well as kidney stone prevention.*

Arginine (CAA): The most well-known function of arginine is to serve as the substrate for the production of nitric oxide, a powerful vasodilator that enhances blood flow and pumps during training and supports cardiovascular function. Arginine also plays a role in the healthy functioning of the pituitary gland and works with two other amino acids in L-Ornithine and phenylalanine.*

Aspartic Acid (NAA): Aspartic acid serves a key role in the Krebs Cycle (TCA cycle) that provides energy to the body through its production of ATP (adenosine triphosphate). This nonessential amino acid is also needed for the production of immunoglobulins, antibodies, and DNA. In case you weren't aware, immunoglobulins and antibodies are responsible for recognizing, binding, and eventually destroying harmful viruses and bacteria that invade the body.*

Cystine (CAA): Synthesized in the liver from the essential amino acid methionine, cysteine fulfills several important functions in the body. First and foremost, cysteine is needed to produce glutathione, one of the most powerful antioxidants in the body. This amino acid also helps slow down the aging process, and some research indicates it may help prevent dementia and multiple sclerosis.*

Glutamic Acid (CAA): Glutamic acid belongs to the same family of amino acids as L-Glutamine, the most abundant amino acid in the body. Glutamic acid plays a key role in immune function and digestion and serves as an important excitatory neurotransmitter in the brain.*

Glycine (NAA): Glycine is the smallest and simplest of the 20+ amino acids found in the human body and the second most abundant found in human proteins and enzymes. Formed in the liver from serine and threonine, glycine plays an important role in the central nervous system and the digestive system and is needed for the production of many important acids, including nucleic acid, bile acids, and creatine phosphate.*

Histidine (CAA): Histidine is an aromatic amino acid used to synthesize proteins and affects numerous metabolic reactions in the body. It also regulates the blood's pH value and helps form the myelin sheath, a protective coating that surrounds all nerve cells and protects them from damage.*

Isoleucine (EAA): The "weaker" and younger brother of leucine, Isoleucine stimulates muscle protein synthesis in the body, though not quite as powerfully as leucine does. However, where isoleucine does stand out is its role in enhancing glucose uptake by skeletal muscle and glucose utilization during intense exercise.*

Leucine (EAA): The "king" of amino acids, leucine is most well known for being the most powerful stimulator of the mTOR pathway in the body, which drives muscle protein synthesis.

Lysine (EAA): Lysine is needed for the production of antibodies and is beneficial for protecting against the herpes virus. Additionally, lysine is also needed for carnitine production – a substance that helps the body use fat for energy. This essential amino acid also aids calcium absorption and is needed for protein synthesis.*

Methionine (EAA): Methionine is vital to the production of L-Cysteine, an incredibly potent antioxidant that combats oxidative stress induced by intense training. This essential amino acid also aids the liver with the digestion of fats and serves as a "building block" for the production of carnitine, adrenaline, choline, and melatonin.*

Phenylalanine (EAA): A precursor to tyrosine, phenylalanine is important in the synthesis of the important neurotransmitters. Due to this amino acid's role in neurotransmission, phenylalanine has been investigated as a possible treatment for depression and several other illnesses, including multiple sclerosis, Parkinson's disease, and ADD.*

Proline (CAA): Manufactured in the liver from ornithine, glutamine, and glutamate, proline is a secondary amino acid that is one of the primary amino acids used to generate collagen, the fundamental protein of skin, bones, ligaments, and tendons. This amino acid also fortifies the artery walls and protects the endothelium layer, highlighting its importance in maintaining cardiovascular health.*

Serine (NAA): Formed from glycine, serine plays a central role in the proper functioning of the central nervous system and production of antibodies. It is also required for the production of phospholipids used in cell production. To top it off, this amino acid also serves a role in the function of DNA and RNA, fat metabolism, and muscle formation.*

Threonine (EAA): A precursor to glycine and serine, threonine is essential for protein synthesis, and it also supports the proper functioning of the central nervous, immune, digestive, and skeletal muscle systems of the body. Threonine is needed to produce antibodies, which bolster the immune system, and the mucus gel layer that covers the digestive tract.*

Tryptophan (EAA): Tryptophan plays a critical, crucial role in lifting mood, as the uses this amino acid to generate serotonin, one of the "happy hormones." Another important function of this essential amino acid is that it supports niacin synthesis, an essential B vitamin involved in energy production.

Tyrosine (CAA): Tyrosine is an essential amino acid affecting mood, motivation, and reward. Moreover, tyrosine also plays a role in regulating pain sensitivity, stress, and appetite.*

Valine (EAA): The final component of the trio of BCAAs, valine is the least studied of the lot. As one of the BCAAs, valine helps drive muscle protein synthesis and is essential for glycogen synthesis in muscle tissue and energy conversion. On top of that, valine also has a supporting role in the proper cognitive function and immune system function.*
Add one serving (one level scoop) of Steel Whey® to a shaker cup or blender filled with 6-8 fl. oz. of cold water, milk, or your favorite beverage and mix thoroughly. Adjust the amount of liquid to reach your desired taste preference and consistency. Enjoy Steel Whey® before workouts, within 30 minutes after workouts, or anytime you desire a delicious, high-quality, high-protein drink.

Steel Whey® can be used for more than just protein shakes. Try mixing a scoop into your oatmeal or yogurt. Better yet, take your breakfast to the level with Steel Whey® protein pancakes or waffles. Create amazing brownies, cookies, muffins, and other types of baked goods packed with extra protein, or satisfy your late night sweet tooth with protein-infused ice cream, pudding, or milkshakes.
Size: 2 lbs (910 g), 26 Servings

Banana Milkshake Ingredients: Whey Protein Concentrate (Milk), Natural & Artificial Flavors, Guar Gum, Sodium Chloride, Sucralose, Acesulfame Potassium.

Chocolate Milkshake Ingredients: Whey Protein Concentrate (Milk), Mojave Cocoa, Natural & Artificial Flavors, Guar Gum, Sodium Chloride, Sucralose, Acesulfame Potassium.

Peanut Butter Milkshake Ingredients: Whey Protein Concentrate (Milk), Natural & Artificial Flavors, Guar Gum, Sodium Chloride, Sucralose, Acesulfame Potassium.

Strawberry Milkshake Ingredients: Whey Protein Concentrate (Milk), Natural & Artificial Flavors, Guar Gum, Sucralose, Sodium Chloride, Acesulfame Potassium, FD&C Red #40, FD&C Red #40 Aluminum Lake.

Vanilla Milkshake Ingredients: Whey Protein Concentrate (Milk), Natural & Artificial Flavors, Guar Gum, Sucralose, Sodium Chloride, Acesulfame Potassium.

CONTAINS: MILK.

PEANUT BUTTER MILKSHAKE CONTAINS: PEANUTS, MILK.

Warning: Use this product as a food supplement only. Do not use for weight reduction. This product is only intended for healthy adults, 18 years of age or older. Do not use if pregnant or nursing. Consult a physician before using this or any dietary supplement or before starting any diet or exercise program. Do not use if you are allergic to peanuts or cocoa. Do not use if you are allergic to pea, pumpkin, sunflower, or watermelon. Immediately discontinue use and consult a licensed, qualified healthcare professional if you experience any adverse reaction to this product. Do not exceed recommended daily intake. Store in a cool, dry place, tightly closed and under 76 Degrees Fahrenheit. Do not expose to excessive heat or moisture. Do not use if safety seal is damaged or missing. Keep out of reach of children and pets.

California Prop 65 Warning: Consuming this product can expose you to chemicals including lead which is known to the State of California to cause birth defects or other reproductive harm. For more information go to http://www.P65Warnings.ca.gov/food.

Allergen Warning: Produced on equipment that also processes dairy, soy, peanuts, or other tree nuts.

Note: This product is sold by weight, not volume. Some settling of powder may occur during shipping and handling, which may affect the density of powder. This product contains the servings indicated when measured exactly by weight.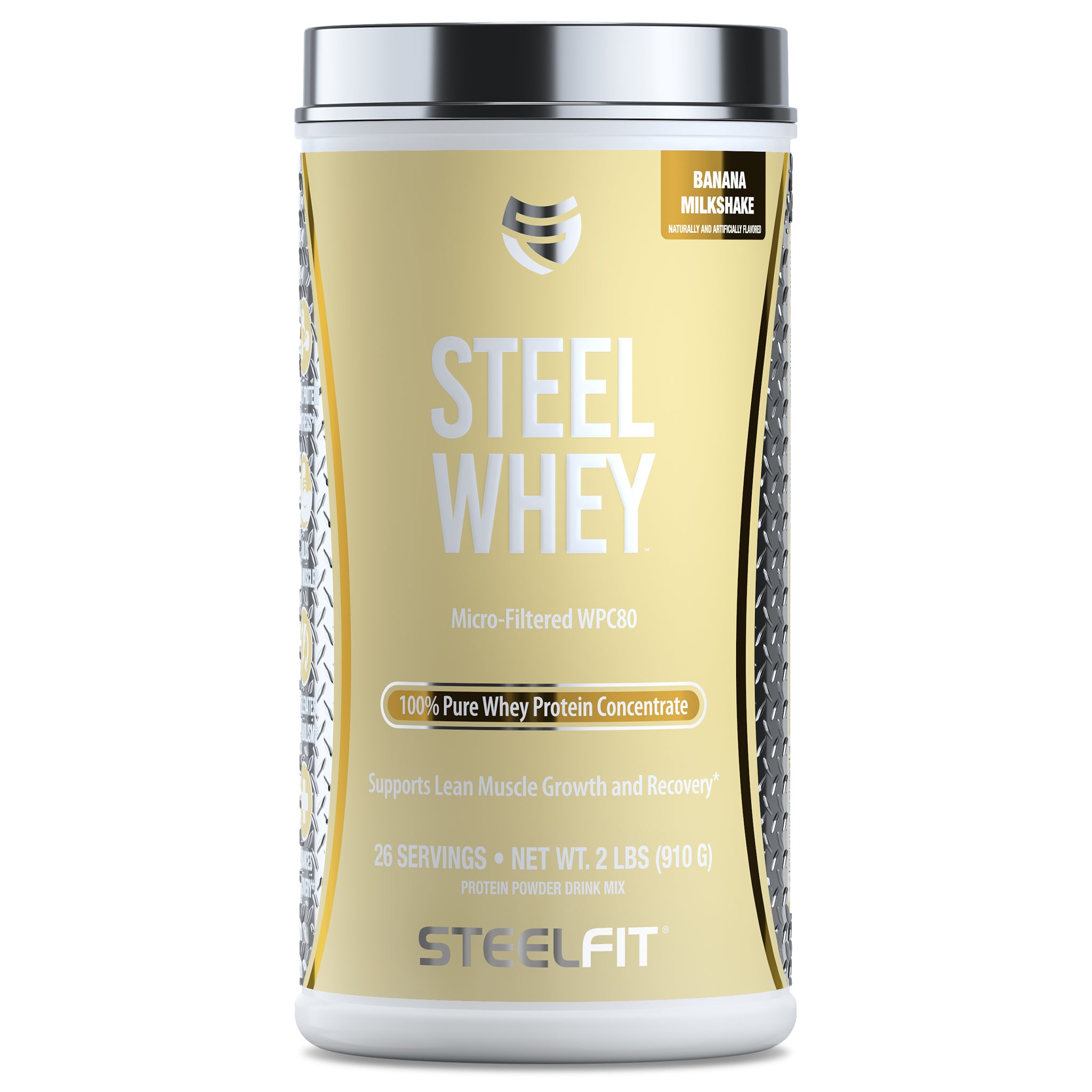 This product is rated 4.9 of 5.0 stars.
It has received 459 reviews.
Total 5 star reviews: 430
Total 4 star reviews: 28
Total 3 star reviews: 1
Total 2 star reviews: 0
Total 1 star reviews: 0
100%
would recommend this product
Customer-uploaded media carousel. Press left and right arrows to navigate. Press space or enter to open more details.
Slide 1 selected
Laurie M.

Verified Buyer

What Is Your Gender?

Female

What Best Describes Your Fitness Level?

Competitive Athlete

What Are Your Exercise Goals?

Build Lean Muscle

9 months ago

What Is Your Gender?

Female

What Best Describes Your Fitness Level?

Competitive Athlete

What Are Your Exercise Goals?

Build Lean Muscle

Best protein shake yet

I ordered this while on sale hoping it would taste decent - I was absolutely shocked to learn it was the best tasting and best performing protein shake I've ever tried. Will order again.

Monia S.

Verified Buyer

What Is Your Gender?

Female

What Best Describes Your Fitness Level?

Regular Supplement User

Health Goal

Healthy Lifestyle

10 months ago

What Is Your Gender?

Female

What Best Describes Your Fitness Level?

Regular Supplement User

Health Goal

Healthy Lifestyle

Healthy and Delicious 😋

The Best milkshake EVERRR…. 😍

Danielle N.

Verified Buyer

What Best Describes Your Fitness Level?

Regular Supplement User

2 years ago

What Best Describes Your Fitness Level?

Regular Supplement User

Only protein I'll use!!! Flavor

Only protein I'll use!!! Flavor on point!!!

Consistency amazing, carbs extra points, and helps me grow after my workouts.

Protein is a must !!! Game changer is making it into a smoothie

Alba S.

Verified Buyer

What Best Describes Your Fitness Level?

Regular Supplement User

3 years ago

What Best Describes Your Fitness Level?

Regular Supplement User

Best flavor . I love

Best flavor . I love it 😻 vanilla with some fresh strawberry 🍓

David

Verified Buyer

What Best Describes Your Fitness Level?

Regular Supplement User

3 years ago

What Best Describes Your Fitness Level?

Regular Supplement User
Reviews Loaded
Reviews Added