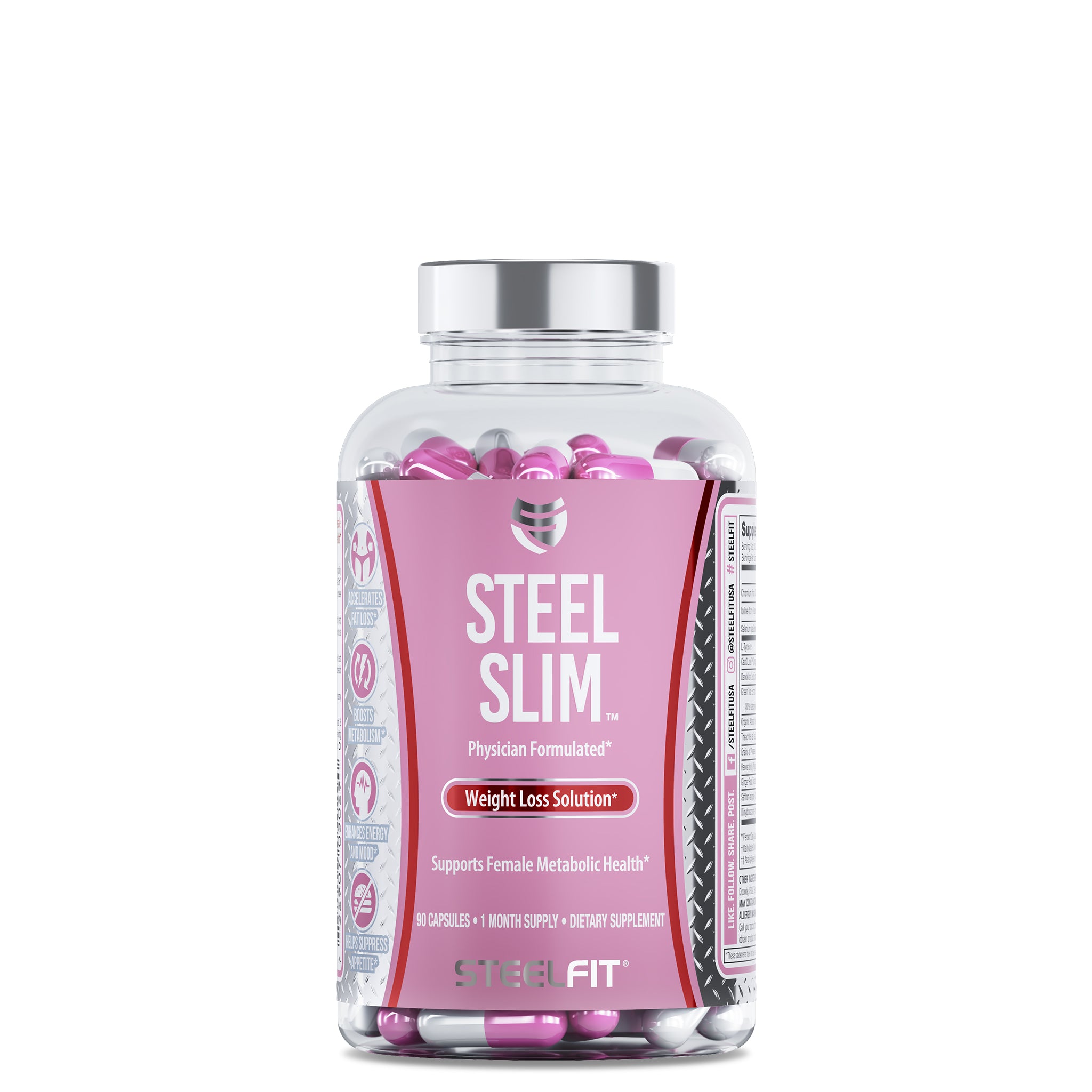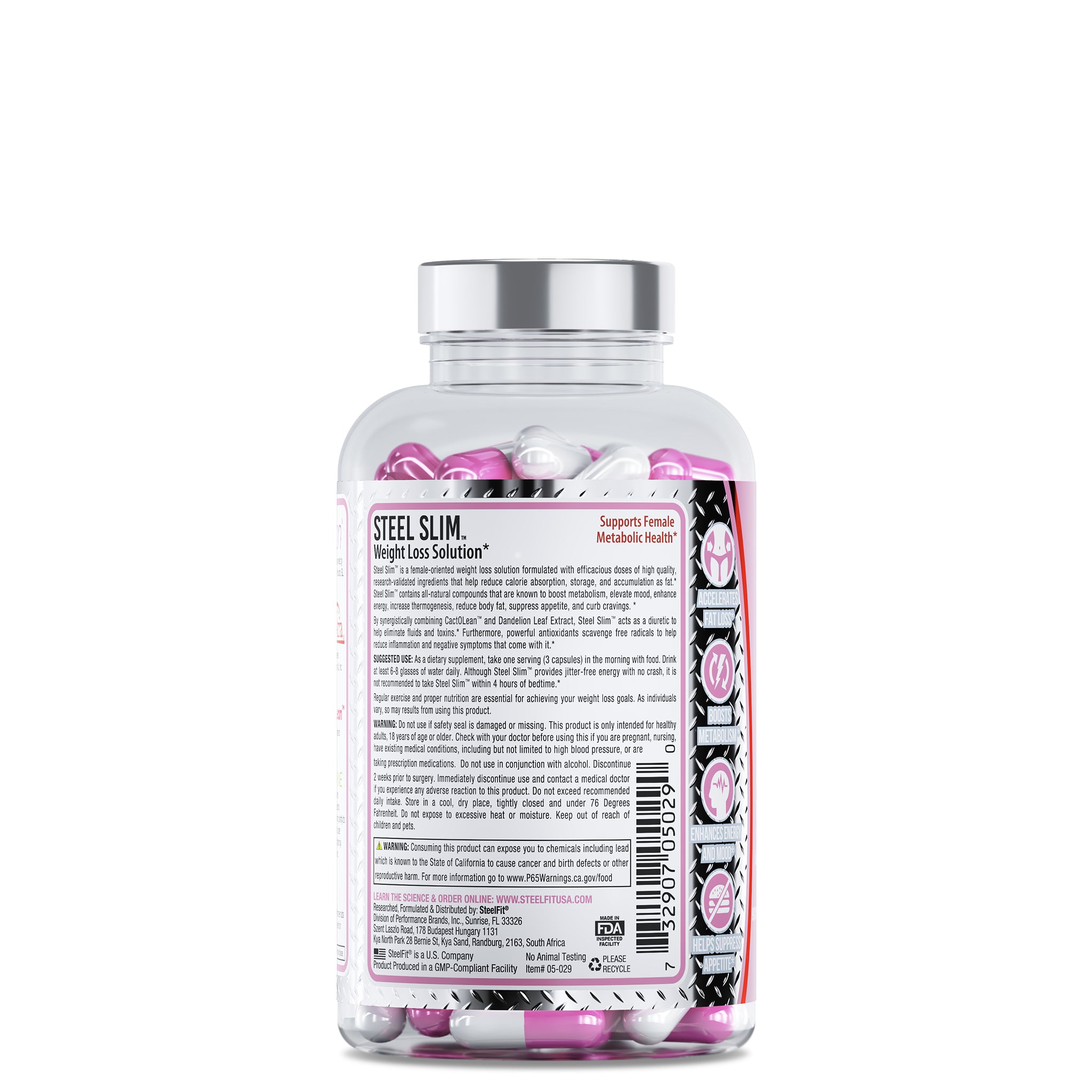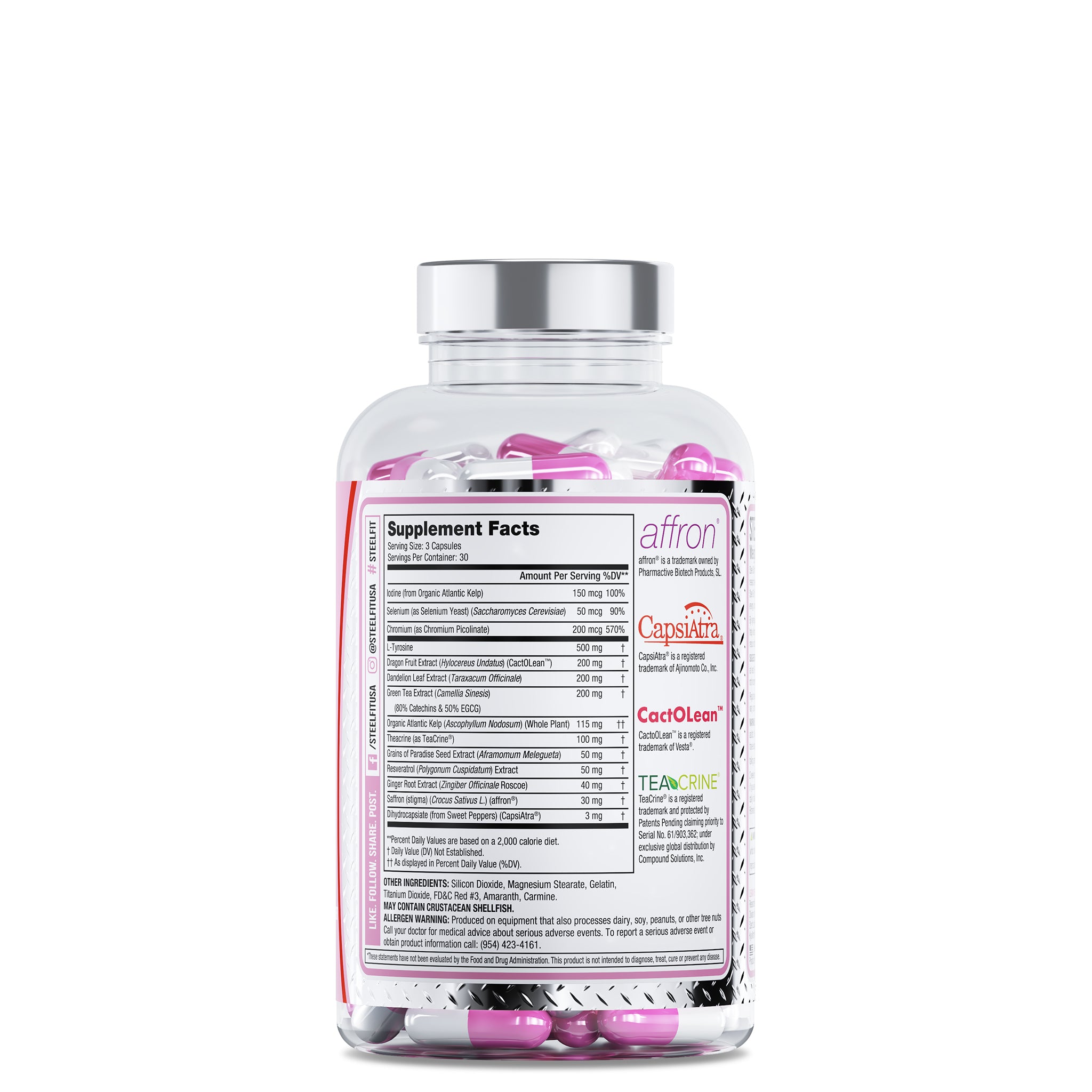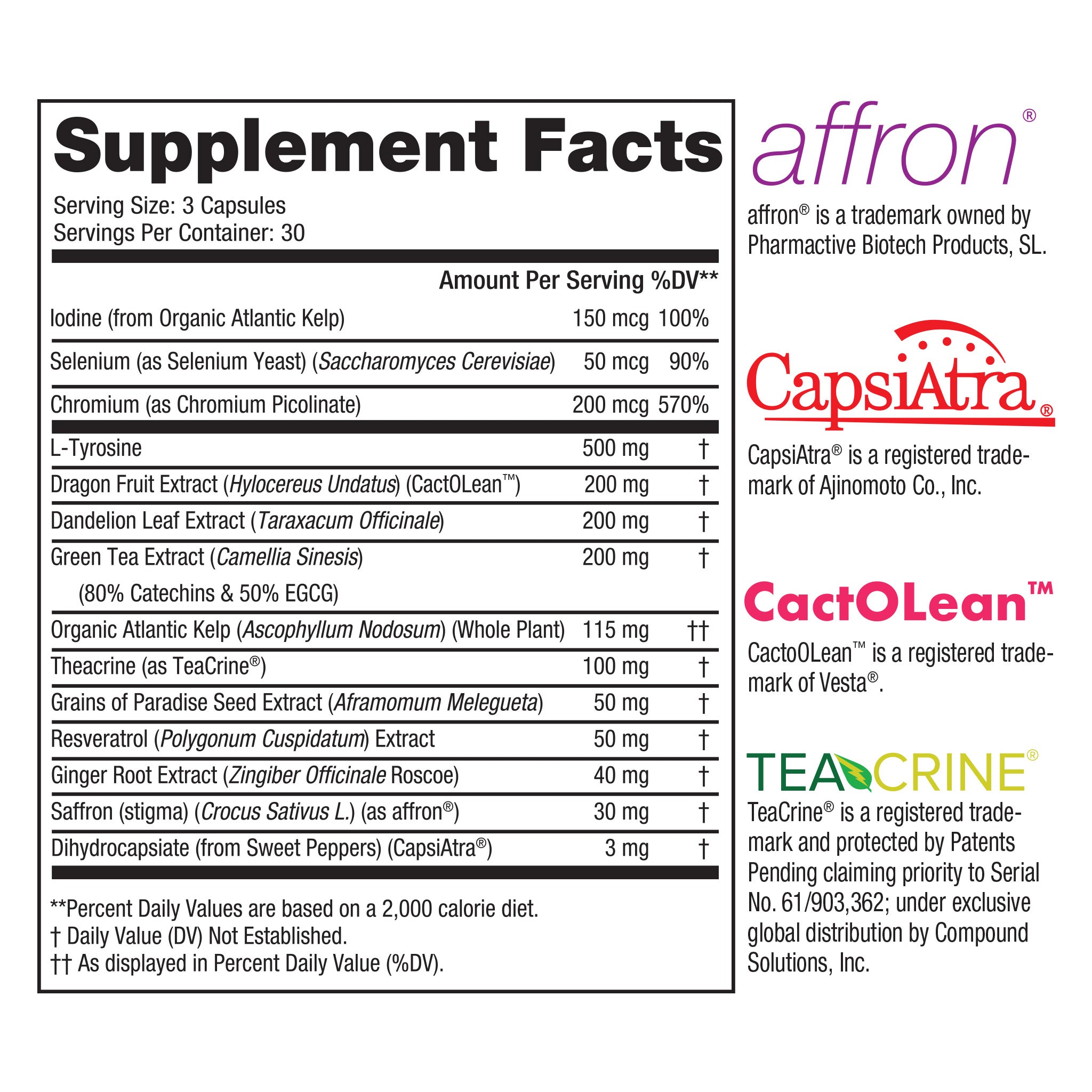 Steel Slim®
Steel Slim® is a female-oriented weight loss solution formulated with efficacious doses of high quality, research-validated ingredients that help reduce calorie absorption, storage, and accumulation as fat.*
Steel Slim® contains all-natural compounds known to boost metabolism, elevate mood, enhance energy, increase thermogenesis, reduce body fat, suppress appetite, and curb cravings.*
By synergistically combining CactOLean and Dandelion Leaf Extract, Steel Slim® acts as a diuretic to eliminate fluids and toxins. Furthermore, powerful antioxidants scavenge free radicals to help reduce inflammation and negative symptoms that come with it.*
If you're not satisfied with your product, simply contact us and we'll give you a full, 100% hassle-free refund.
Accelerates Fat Loss*

Boosts Metabolism*

Enhances Energy and Mood*

Helps Suppress Appetite*
Dieting has become synonymous with feelings of stress, deprivation, poor mood, and low energy.

To combat dieting struggles, dieters routinely embrace caffeine and other stimulants to provide a temporary boost in energy and a temporary reduction in appetite.

This is nothing more than putting a band-aid gaping wound.

For true weight loss support, dieters need something that not only boosts energy and mood but something that supports fat burning, energy expenditure, and appetite suppression.

That "something" is Steel Slim®.

What It Is: Steel Slim® is a female-oriented weight loss solution formulated with efficacious doses of high quality, research-validated ingredients that help reduce calorie absorption, storage, and accumulation as fat.*

What It Does: Steel Slim® contains all-natural compounds known to boost metabolism, elevate mood, enhance energy, increase thermogenesis, reduce body fat, suppress appetite, and curb cravings.*

By synergistically combining CactOLean™ and Dandelion Leaf Extract, Steel Slim® acts as a diuretic to eliminate fluids and toxins.* Furthermore, powerful antioxidants scavenge free radicals to help reduce inflammation and negative symptoms that come with it.*

Why Is It Better: Steel Slim® deviates from the "standard operating procedures" utilized by most fat burners — cramming users full of hundreds and hundreds of milligrams of stimulants to simulate the effects of it "working."*

We included no caffeine at all. Instead, we incorporated the caffeine-relative TeaCrine® to provide smooth, sustained energy that lasts for hours, all while avoiding the jitters and crash associated with high doses of caffeine.*

But, Steel Slim® is so much more than a long-lasting energy booster.*

Steel Slim® also includes several research-verified ingredients, including green tea extract, resveratrol, ginger root, and affron® to help reduce appetite, increase satiety, enhance fat burning, and heighten mood.*

We've even included iodine from Organic Kelp to support thyroid function and metabolism!*
Selenium (as Selenium Yeast) (Saccharomyces Cerevisiae): Trace mineral which serves as a constituent of proteins involved in DNA synthesis, reproduction, cognitive function, thyroid hormone metabolism, protection from oxidative damage, and immune function.*

Chromium (as Chromium Picolinate): Trace mineral involved in carbohydrate, protein, and fat metabolism and well-known to enhance the action of insulin in the body.*

L-Tyrosine: A non-essential amino acid that plays an important role in producing neurotransmitters dopamine and norepinephrine. Also, because L-Tyrosine is necessary for the synthesis of thyroid hormone and epinephrine (adrenaline), L-Tyrosine supports healthy glandular function and stress response.*

Dragon Fruit Extract (Hylocereus Undatus) (CatcOLean™): CactOLean is an all-natural, standardized fruit extract derived from Dragon Fruit included for its antioxidant and appetite-regulating properties.*

Dandelion Lead Extract (Taraxacum Officinale): An extremely effective diuretic that does not cause the side effects of mineral depletion. It contains powerful diuretic compounds called taraxasterols that support the secretion of excess water and bitter compounds that enhance the efficiency of the body's eliminative and detoxifying functions.*

Green Tea Extract (Camellia Sinensis) (80% Catechins & 50% EGCG): Green Tea contains a combination of vitamins, minerals, and caffeine. Most of Green Tea's health benefits can be attributed to active ingredients known as polyphenols and catechins – plant compounds with strong antioxidant activity. The most potent of these polyphenols is epigallocatechin gallate (EGCG)—the compound most responsible for green tea's reputation as a fat burner. Green Tea has been shown to improve the metabolic rate and increase the body's heat production and fat oxidation.*

Organic Atlantic Kelp (Ascophyllum Nodosum) (Whole Plant): Iodine is an essential trace mineral that plays a crucial role in proper thyroid function, and subsequently, metabolism. Steel Slim® includes 150 mcg of iodine derived from a type of seaweed called kelp to support proper thyroid function and cognition, aiding metabolism and energy production for enhanced fat loss.*

Theacrine (as TeaCrine®): Developed by Compound Solutions, TeaCrine® is a chemical cousin of caffeine derived from Kucha. TeaCrine® provides smooth, long-lasting energy that pairs well with the immediate energy burst of caffeine to form an energy high that lasts for hours on end. One other huge benefit to TeaCrine® is that it does NOT come with the tolerance build-up that caffeine does, meaning that you get the same boost in energy, mood, and focus without having to increase the amount you consume continually.*

Grains of Paradise Seed Extract (Aframum Melegueta): A spice belonging to the ginger family that stimulates brown adipose tissue, boosting metabolism and increasing thermogenesis while decreasing visceral fat in the lower abdomen.*

Resveratrol (Polygonum Cuspidatum): Resveratrol is part of a group of compounds called polyphenols. Resveratrol is regarded as having powerful antioxidant effects, supporting health at the cellular level and protecting against symptoms associated with aging and free radical damage.*

Ginger Root Extract (Zingiber Officinale Roscoe): Ginger is a root herb from the tropical plant Zingiber Officinale. Known for its sharp scent, it has long been an important culinary spice in Asian cuisine and herbal medicine. Ginger seems to influence body weight and composition by boosting the body's thermogenesis and energy expenditure, increasing the breakdown of fat in adipose tissue, and reducing dietary fat absorption in the intestine.*

Saffron (stigma) (Crocus Sativus L.) (affron®): affron® is the first saffron extract standardized by HPLC to Lepticrosalides®, bioactive compounds that promote relaxation, mental and physical balance, and support a positive mood.* affron® has also been shown to enhance satiety, reduce appetite, and promote weight loss.*

Dihydrocapsiate (from Sweet Peppers) (CapsiAtra®): A compound found in CH-19 Sweet Peppers that activates the sympathetic nervous system via receptors in the GI Tract to Increase Resting Energy Expenditure (REE) and Increase Fat Oxidation (Lipolysis).*
As a dietary supplement, take one serving (3 capsules) in the morning with food. Drink at least 6-8 glasses of water daily. Although Steel Slim® provides jitter-free energy with no crash, it is not recommended to take Steel Slim® within 4 hours of bedtime.*

Note: Regular exercise and proper nutrition are essential for achieving your weight loss goals. As individuals vary, so may results from using this product.
Size: 90 Capsules, 1 Month Supply

Other Ingredients: Silicon Dioxide, Magnesium Stearate, Gelatin, Titanium Dioxide, FD&C Red #3, Amaranth, Carmine.

MAY CONTAIN CRUSTACEAN SHELLFISH

Warning: Do not use if the safety seal is damaged or missing. This product is only intended for healthy adults 18 years of age or older. Check with your doctor before using this if you are pregnant, nursing, have existing medical conditions, including but not limited to high blood pressure, or are taking prescription medications. Do not use in conjunction with alcohol. Discontinue 2 weeks before surgery. Immediately discontinue use and contact a medical doctor if you experience any adverse reaction to this product. Do not exceed recommended daily intake. Store in a cool, dry place, tightly closed and under 76 Degrees Fahrenheit. Do not expose to excessive heat or moisture. Keep out of the reach of children and pets.

California Prop 65 Warning: Consuming this product can expose you to chemicals including lead which is known to the State of California to cause birth defects or other reproductive harm. For more information go to http://www.P65Warnings.ca.gov/food.

Allergen Warning: Produced on equipment that also processes dairy, soy, peanuts, or other tree nuts.
When you purchase a subscription, you'll receive repeat deliveries. Products are automatically delivered on your schedule and based on the subscription frequency that you select.

No obligation, modify or cancel your subscription anytime from your customer account.

Subscription discounts are off MSRP price, not promotion or sale price. Discount codes cannot be used on subscription products.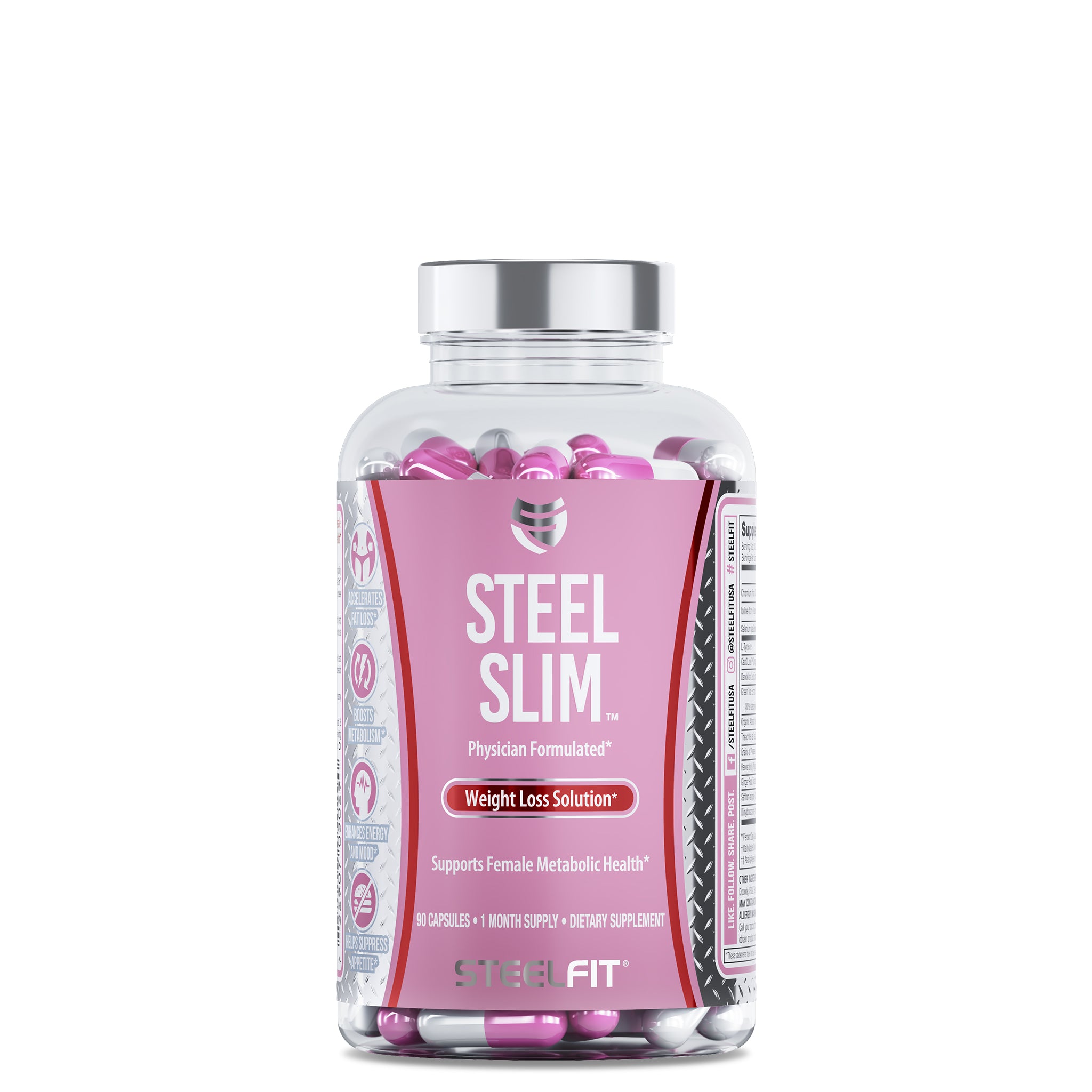 This product is rated 4.7 of 5.0 stars.
It has received 167 reviews.
Total 5 star reviews: 125
Total 4 star reviews: 35
Total 3 star reviews: 4
Total 2 star reviews: 1
Total 1 star reviews: 2
96%
would recommend this product
Customer-uploaded media carousel. Press left and right arrows to navigate. Press space or enter to open more details.
Slide 1 selected
Verified Buyer

What Best Describes Your Fitness Level?

Regular Supplement User

2 years ago

What Best Describes Your Fitness Level?

Regular Supplement User

It works incredible

It really works I highly recommend this products

Verified Buyer

What Best Describes Your Fitness Level?

First Time Supplement User

3 years ago

What Best Describes Your Fitness Level?

First Time Supplement User

Hola es una maravilla e

Hola es una maravilla e perdido 20 libras en 2 meses tengo 42 años y retengo liquidos pero con las pastillas y las cremas estoy super bien gracias.

Verified Buyer

What Best Describes Your Fitness Level?

Regular Supplement User

3 years ago

What Best Describes Your Fitness Level?

Regular Supplement User

Love how it controls my

Love how it controls my appetite and makes me feel less bloated. I'm loving the results

Verified Buyer

What Best Describes Your Fitness Level?

Health Conscious

3 years ago

What Best Describes Your Fitness Level?

Health Conscious

Steel Slim new !

My favorite in the morning with my smoothie

Verified Buyer

What Is Your Gender?

Female

What Best Describes Your Fitness Level?

Health Conscious

What Are Your Exercise Goals?

Healthy Lifestyle

5 months ago

What Is Your Gender?

Female

What Best Describes Your Fitness Level?

Health Conscious

What Are Your Exercise Goals?

Healthy Lifestyle

Good so far!

I'm about 3 weeks in.. So far, I think it gives me some energy without an unhealthy crash. It also doesn't make me feel weird or sick. It helps with focus , which is nice because I have adhd. I'm not sure about the curbing the appetite yet!
Reviews Loaded
Reviews Added