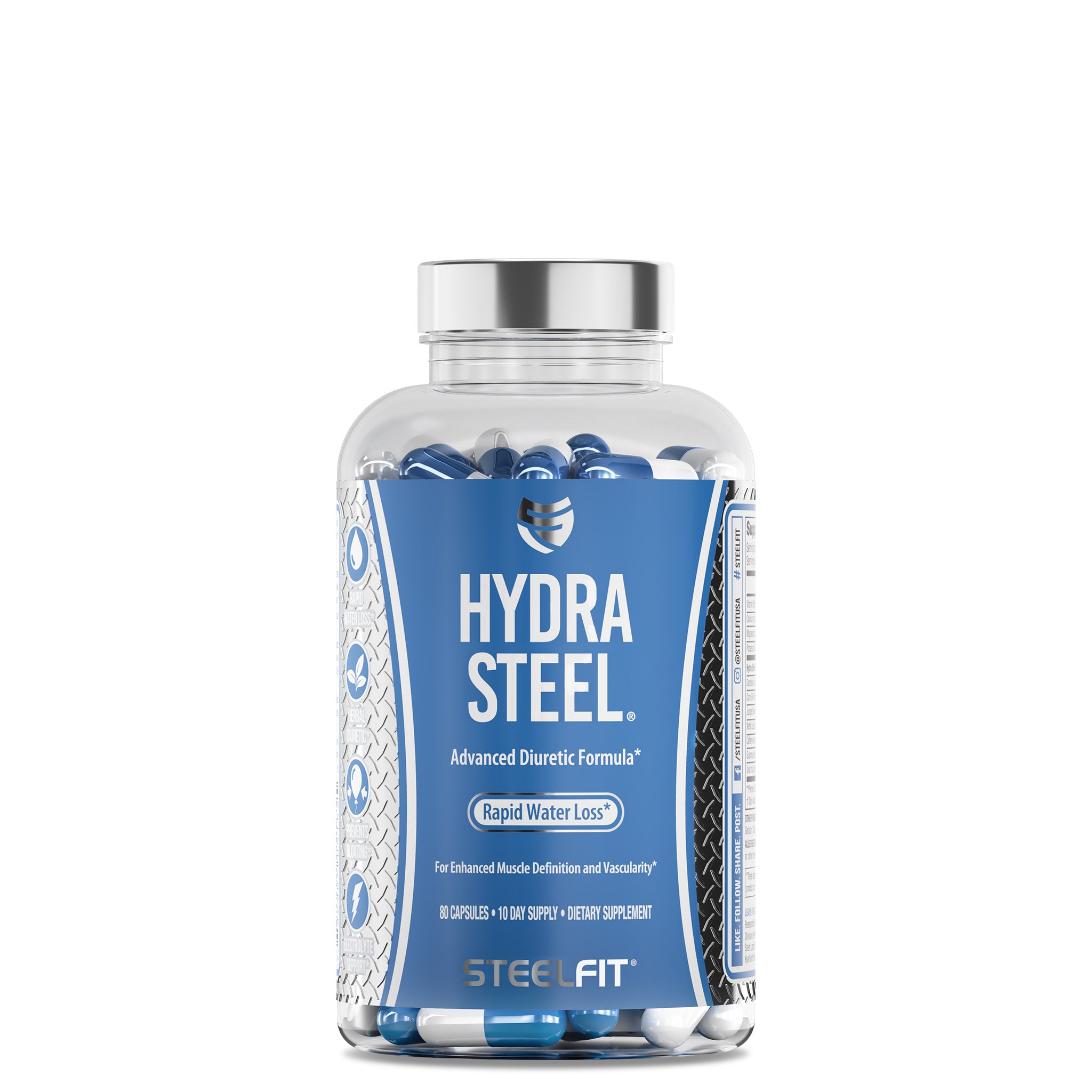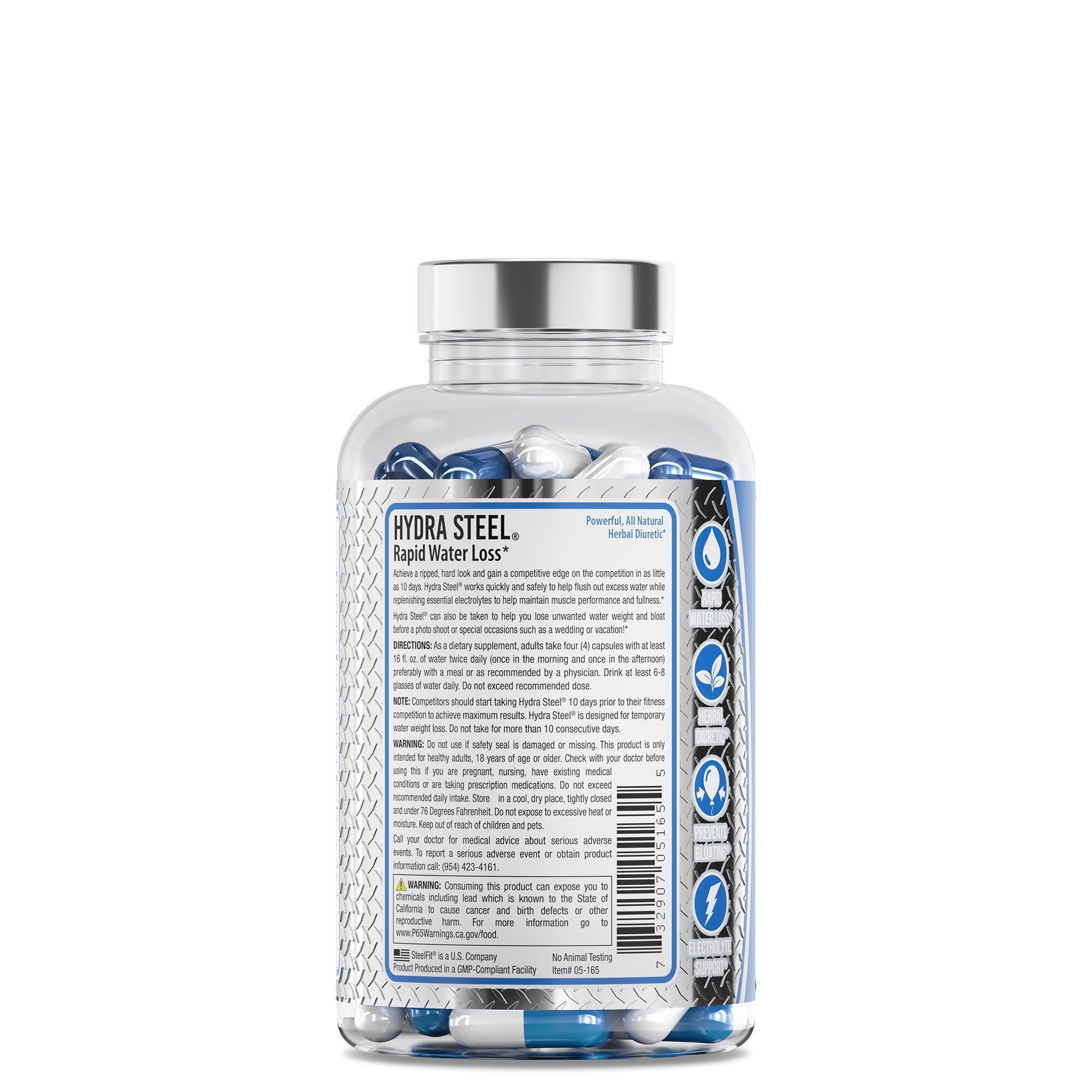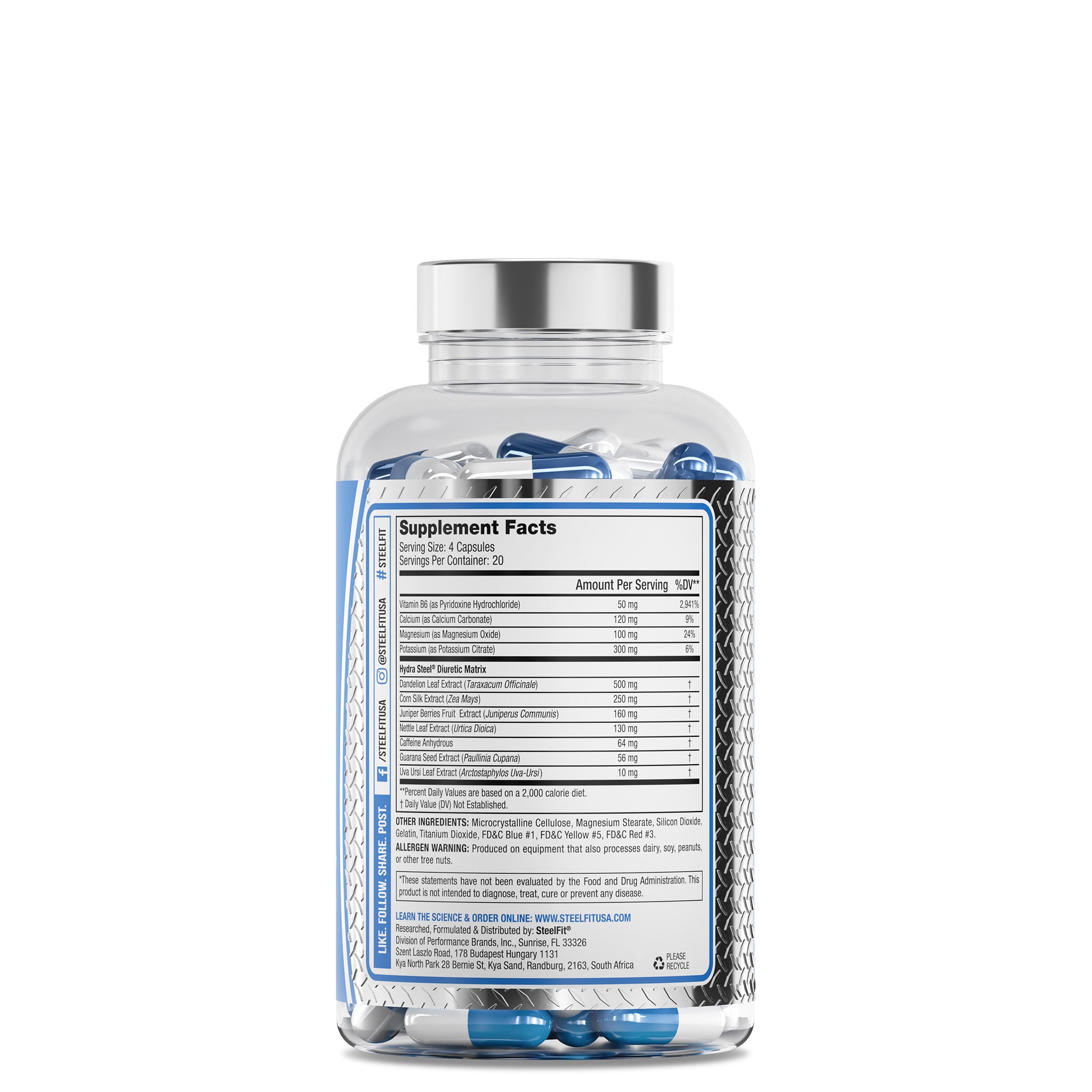 Hydra Steel®
Achieve a ripped, hard look and gain a competitive edge on the competition with our all-natural herbal diuretic. Hydra Steel® works quickly and safely to help flush out excess water while replenishing essential electrolytes to maintain muscle performance and fullness.*
Hydra Steel® can also be taken to help you lose unwanted water weight and bloat before a photoshoot or special occasions such as a wedding or vacation!*
If you're not satisfied with your product, simply contact us and we'll give you a full, 100% hassle-free refund.
When you're getting ready for a big physique competition or photoshoot, you want to look your absolute best. To carry home the prize, whether it be a trophy or a full page spread, you need to look lean, ripped, and toned, and that means no puffiness, no bloating, and no distended belly.

Getting absolutely shredded and "stage-ready" involves not only dropping body fat extremely low but eliminate excess water weight. You see, when you're trying to get to your leanest physique every, your body fights you tooth and nail to hold onto that precious water. And, while your mind and muscles certainly need sufficient amounts of the life-sustaining liquid, it's also covering up the chiseled physique you need to showcase.

The key to beating the bloat and ridding your body of unsightly, stubborn water weight lies in Hydra Steel®.

What It Is: An advanced all-natural diuretic formula designed to help you achieve a ripped, hard look and gain a competitive edge on the competition in as little as 10 days.*

What It Does: Safely helps flush out excess water while replenishing essential electrolytes to help maintain muscle performance and fullness.*

Why Is It Better: Anytime you're forcing your body to increase water removal, you're putting yourself at risk for dehydration, cramping, and a host of other health complications. This is partly why diuretics, particularly prescription diuretics, have gotten such a bad rap.

Unlike synthetic diuretics that deplete your body of valuable electrolytes, Hydra Steel® uses only natural ingredients that safely eliminate unwanted water from your body while restoring valuable electrolytes. Ensuring that you're never at risk for cramping, dehydration, or other issues assorted to diuretics use.*
Dieting has become synonymous with feelings of stress, deprivation, poor mood, and low energy.

To combat dieting struggles, dieters routinely embrace caffeine and other stimulants to provide a temporary boost in energy and a temporary reduction in appetite.

This is nothing more than putting a band-aid gaping wound.

For true weight loss support, dieters need something that not only boosts energy and mood but something that supports fat burning, energy expenditure, and appetite suppression.

That "something" is Steel Slim®.

What It Is: Steel Slim® is a female-oriented weight loss solution formulated with efficacious doses of high quality, research-validated ingredients that help reduce calorie absorption, storage, and accumulation as fat.*

What It Does: Steel Slim® contains all-natural compounds known to boost metabolism, elevate mood, enhance energy, increase thermogenesis, reduce body fat, suppress appetite, and curb cravings.*

By synergistically combining CactOLean™ and Dandelion Leaf Extract, Steel Slim® acts as a diuretic to eliminate fluids and toxins.* Furthermore, powerful antioxidants scavenge free radicals to help reduce inflammation and negative symptoms that come with it.*

Why Is It Better: Steel Slim® deviates from the "standard operating procedures" utilized by most fat burners — cramming users full of hundreds and hundreds of milligrams of stimulants to simulate the effects of it "working."*

We included no caffeine at all. Instead, we incorporated the caffeine-relative TeaCrine® to provide smooth, sustained energy that lasts for hours, all while avoiding the jitters and crash associated with high doses of caffeine.*

But, Steel Slim® is so much more than a long-lasting energy booster.*

Steel Slim® also includes several research-verified ingredients, including green tea extract, resveratrol, ginger root, and affron® to help reduce appetite, increase satiety, enhance fat burning, and heighten mood.*

We've even included iodine from Organic Kelp to support thyroid function and metabolism!*
Uva Ursi Leaf Extract (Arctostaphylos Uva-Ursi): A plant commonly called Bearberry, it contains arbutin, a natural compound with strong diuretic properties that also promotes a rapid expulsion of body fluid through the urinary tract, relieving temporary water retention without putting stress on the kidneys.*

Vitamin B-6 (as Pyridoxine Hydrochloride): Essential in balancing sodium and potassium levels in the body while also responsible for producing monamine neurotransmitters. Vitamin B-6 increases metabolic rate while metabolizing glycogen, metabolizes protein, and creates nonessential amino acids.*

Magnesium (as Magnesium Oxide): An essential mineral necessary for energy production and transport and supporting protein synthesis, bone growth, flexibility, and the maintenance of the pH of various organ systems.*

Juniper Berries Fruit Extract (Juniperus Communis): Naturally stimulates the kidneys to move fluids faster.*

Potassium (as Potassium Citrate): As an electrolyte, it aids in maintaining enzyme structures and fluid balance.*

Dandelion Leaf Extract (Taraxacum Officinale): An extremely effective diuretic that does not cause the side effects of mineral depletion. It contains powerful diuretic compounds called taraxasterols that support the secretion of excess water and bitter compounds that enhance the efficiency of the body's eliminative and detoxifying functions.*
As a dietary supplement, adults take four (4) capsules with at least 16 fl. oz. of water twice daily (once in the morning and once in the afternoon), preferably with a meal or as recommended by a physician. Drink at least 6-8 glasses of water daily. Do not exceed the recommended dose.

Note: Competitors should start taking Hydra Steel® 10 days prior to their fitness competition to achieve maximum results. Hydra Steel® is designed for temporary water weight loss.*
Size: 80 Capsules, 10 Day Supply

Other Ingredients: Microcrystalline Cellulose, Magnesium Stearate, Silicon Dioxide, Gelatin, Titanium Dioxide, FD&C Blue #1, FD&C Yellow #5, FD&C Red #3.

Warning: Do not use if the safety seal is damaged or missing. This product is only intended for healthy adults 18 years of age or older. Check with your doctor before using this if you are pregnant, nursing, have existing medical conditions, including but not limited to high blood pressure, or are taking prescription medications. Do not use if you are prone to dehydration or overheating. Do not use in conjunction with alcohol. Discontinue 2 weeks before surgery. Immediately discontinue use and contact a medical doctor if you experience any adverse reaction to this product. Do not exceed recommended daily intake. Do not take for more than 10 consecutive days. Store in a cool, dry place, tightly closed and under 76 Degrees Fahrenheit. Do not expose to excessive heat or moisture. Keep out of the reach of children and pets.

California Prop 65 Warning: Consuming this product can expose you to chemicals including lead which is known to the State of California to cause birth defects or other reproductive harm. For more information go to http://www.P65Warnings.ca.gov/food.

Allergen Warning: Produced on equipment that also processes dairy, soy, peanuts, or other tree nuts.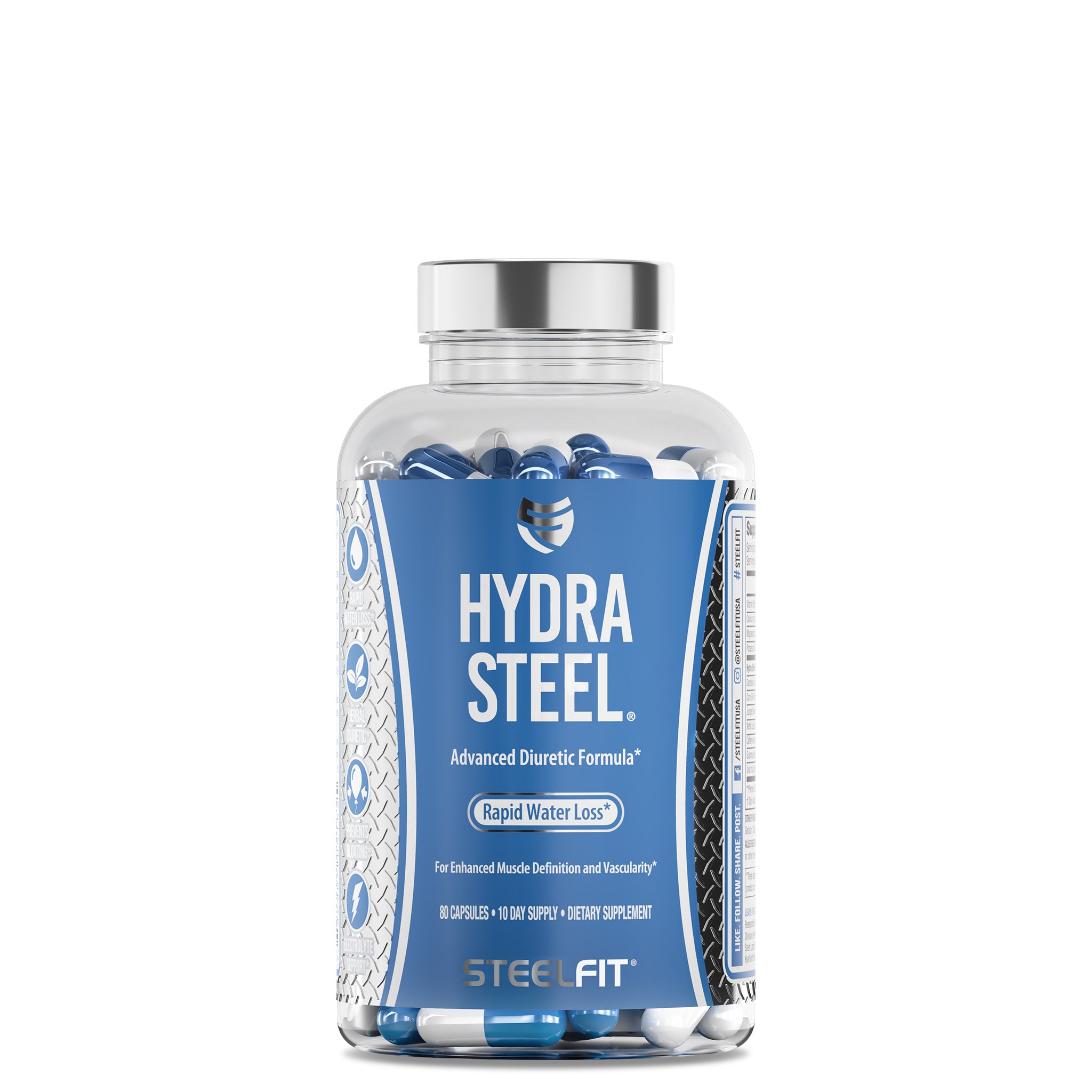 This product is rated 4.9 of 5.0 stars.
It has received 189 reviews.
Total 5 star reviews: 165
Total 4 star reviews: 23
Total 3 star reviews: 1
Total 2 star reviews: 0
Total 1 star reviews: 0
99%
would recommend this product
Customer-uploaded media carousel. Press left and right arrows to navigate. Press space or enter to open more details.
Slide 1 selected
Verified Buyer

What Best Describes Your Fitness Level?

Regular Supplement User

2 years ago

What Best Describes Your Fitness Level?

Regular Supplement User

Hydra Steel

This product rocks! It has really helped me with my bloating issue!

Awesome products

I will be purchasing more products from the company definitely worth investing in

Feeling dry and tight!

I love hydra steel, I've used it several times either before a show or photo shoot or even prior to going on vacation!

Hides steel

2 week using it I'm feel little lean and better :hugging:

Hydra steel review

I bought and used Hydra Steel for the ten days that it's recomended usage before the Arnold Classic, so I could be the leanest and vascular with out any prep or dieting like for a competition. And I loved it so much that I bought some more!!!
Reviews Loaded
Reviews Added